Kitchens
Turn the heart of your home into a showpiece with precision craftsmanship, practical storage solutions and exquisite beauty.
Filter
Gallery By Room Styles
Contemporary
Traditional
Transitional
In Vogue Kitchen
The vision was to create an open plan modern farmhouse with a generous dose of understated glamour. Selecting materials to spotlight the dominant window, this kitchen is a mastery of mixtures, creating subtle contrast throughout.Combining flush inset and full overlay cabinetry, standard and high gloss sheens, polished marble and muted concrete countertops, lacquered brass and brushed stainless metals... all meld together to create a sense of tranquility. Rectilinear lines and geometric patterns add structure and personality.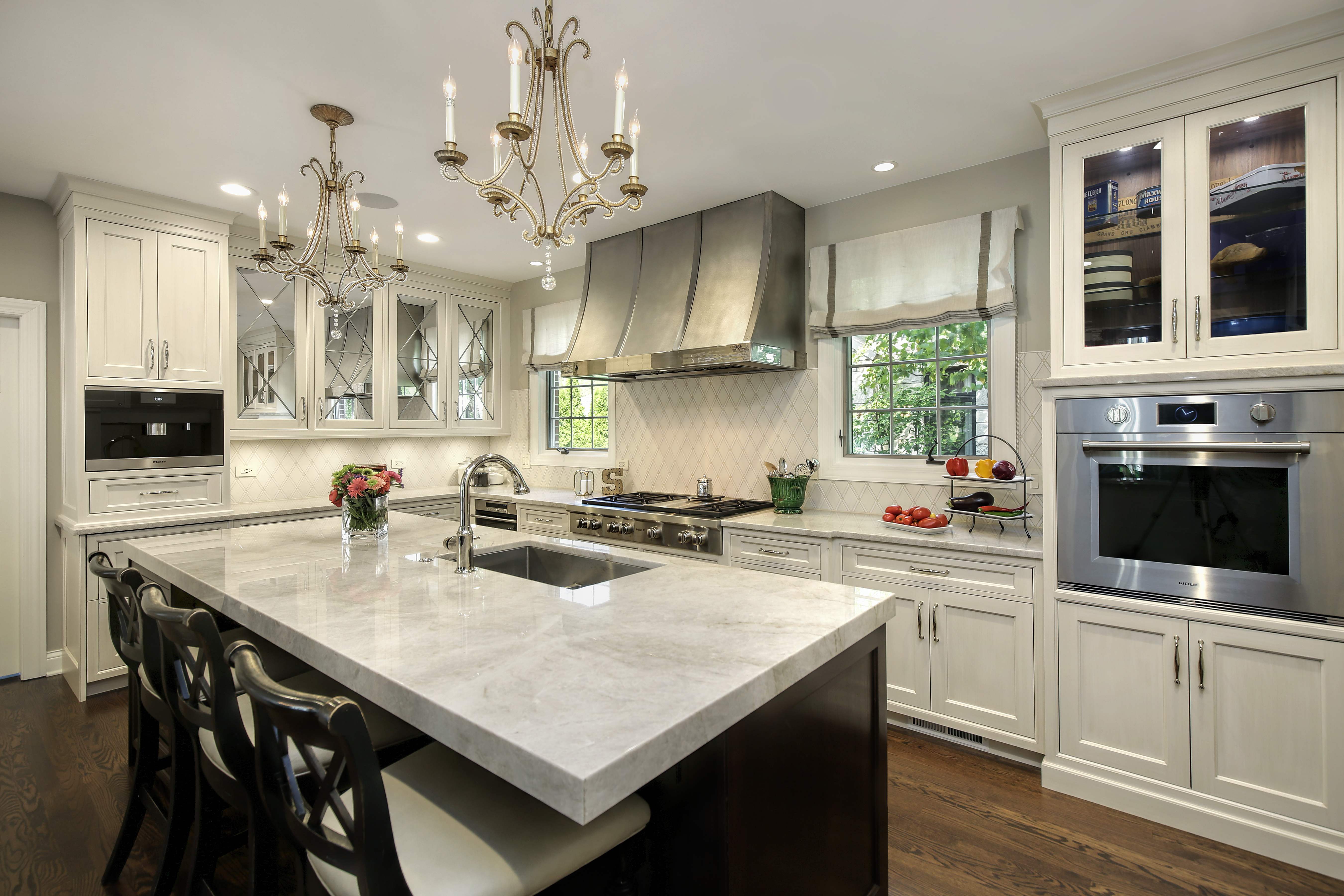 Elegant Traditional Svanascini Kitchen
Traditional in style, this kitchen's location overlooking the family room makes it an important transitional space packed with high design. Brushed stainless steel accents, including a custom range hood and leaded antique mirror glass doors, amplify the bright Wood-Mode cabinetry finished in Vintage Nordic White. To create a juxtaposition of the design's bright features, cabinet interiors were left in natural Walnut to peek out of glass cabinet fronts and pair with the Wood-Mode Alexandria Recessed door also in Walnut to create focal points for the eye.
Poolside Retreat Kitchenette
The perfect getaway, the Poolside Retreat kitchenette features beautiful vintage blue cabinetry which beautifully offsets its rustic brick walls and walnut countertops. Taking into account its small space, all appliances were uniquely built into the cabinetry. Including a beverage dispenser and ice machine, a microwave, and not to mention integrated refrigerator and freezer drawers. With its cohesive balance of rustic details and transitional cabinetry, you will never want to leave.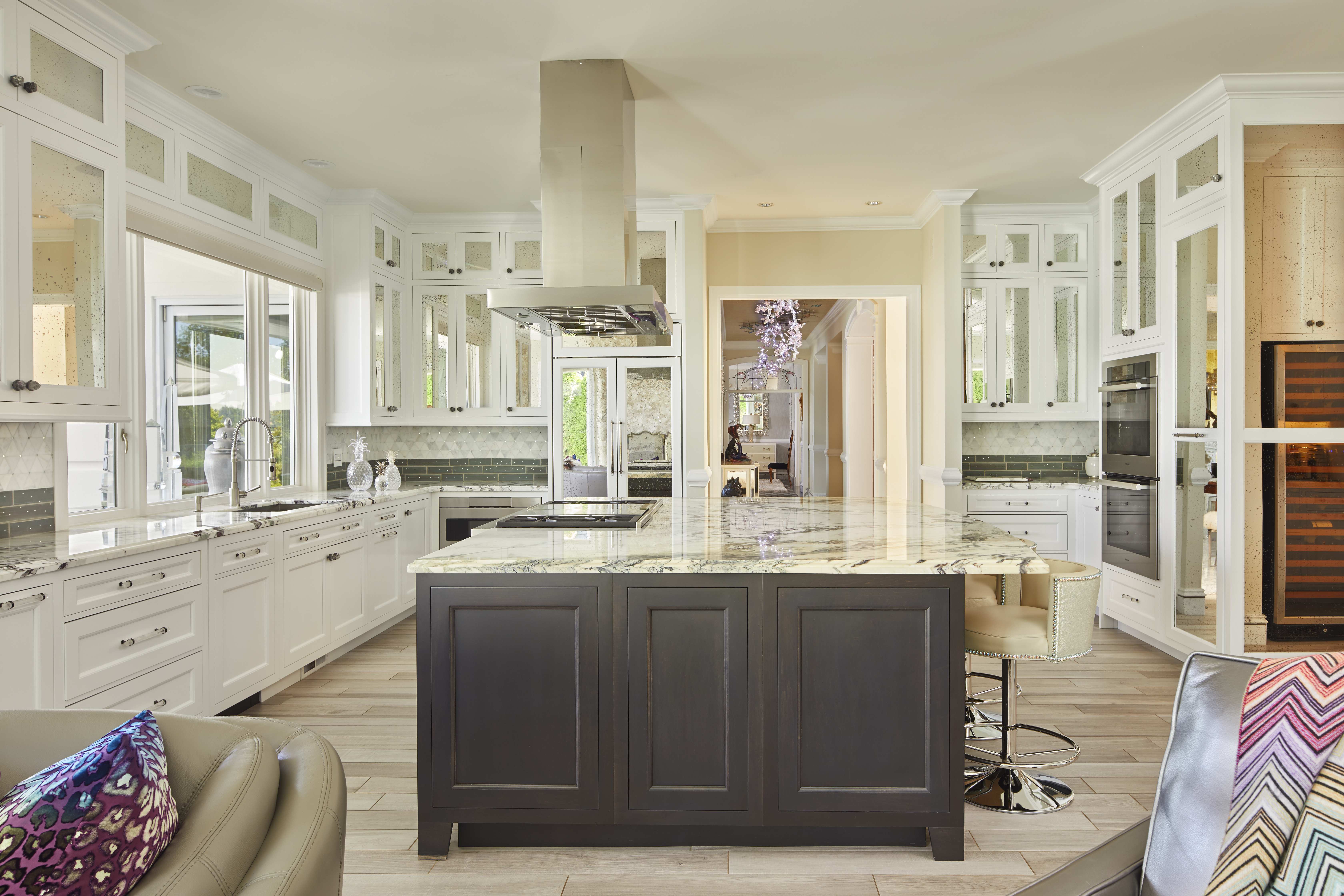 Lake Sammamish Kitchen
Stunningly bright white, this modern kitchen captures your attention. Created to mirror the clients' cheerful personality, the incorporation of the light and dark contrast coupled with the inset Woodford mirror insert definitely fulfilled their intentions. With a great open feel, there is still ample storage, especially in the uniquely designed walk-in pantry. As if that wasn't enough, there is also a luxuriously stocked coffee bar.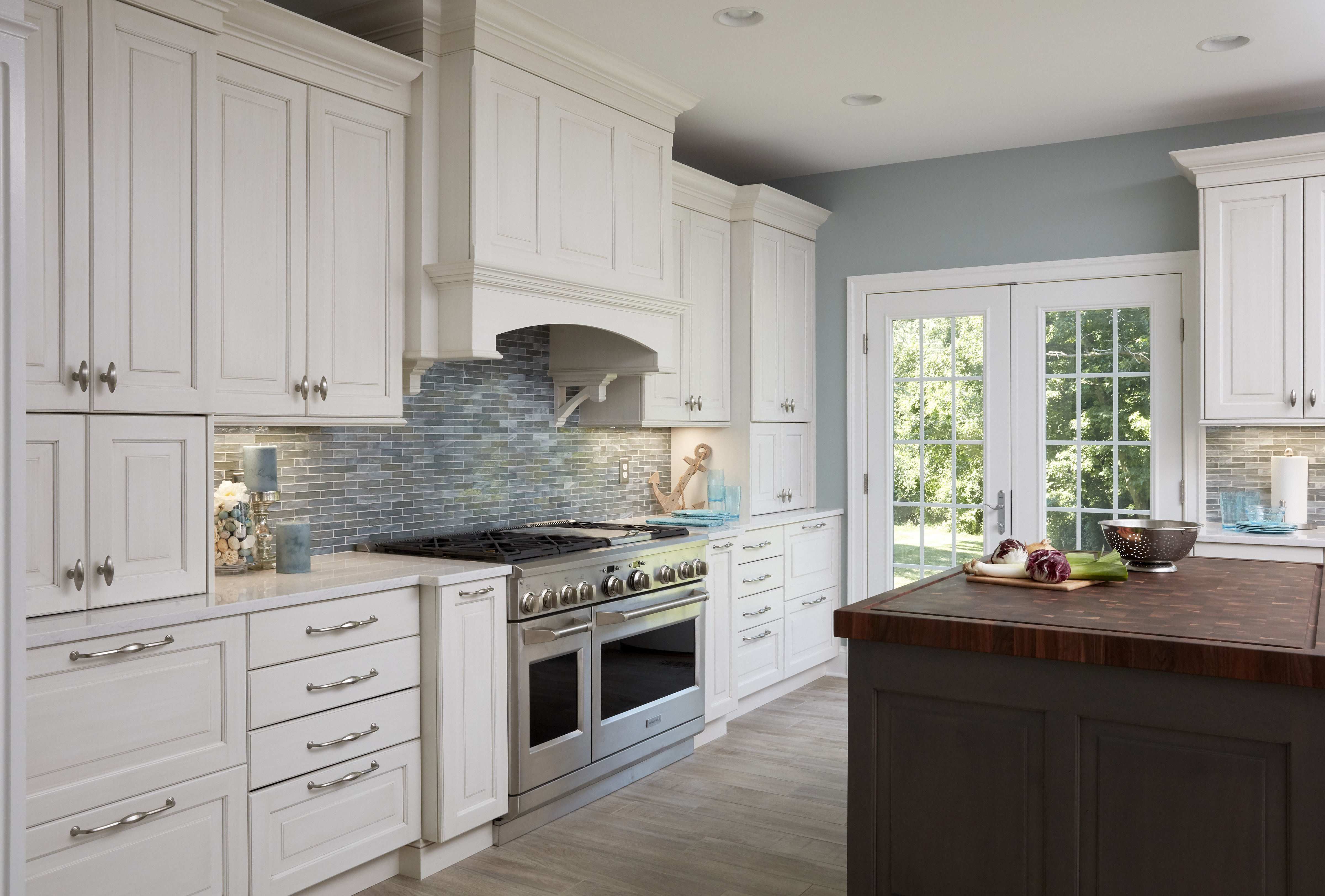 White Dreams Kitchen
Experiencing this kitchen is truly a dream both aesthetically and practically. With its integrated crown molding on upper cabinets, mixed surface countertops, and farmhouse sink, have guests enjoy the company and surrounding views. Featuring two island spaces, spacious storage, hidden seating, it is the ideal set-up for any dinner party. Light and bright Vintage White finishes uniquely offset by dark Matte Twilight create stunning balance to the room.
Bright, Light, Blue & White
This bright kitchen is a mix of the new Inset profile in the Georgian Recessed door and the full overlay Galleria door painted white for the perimeter and bar and a beautiful custom stained blue on alder in the Georgian Raised Door for both of the islands. This kitchen is appointed very well, and is not lacking in any detail, but is still very clean and not fussy giving a very updated look. The result is a kitchen that is elegant, timeless, and can be either traditional or transitional due to the careful consideration and use of all design elements.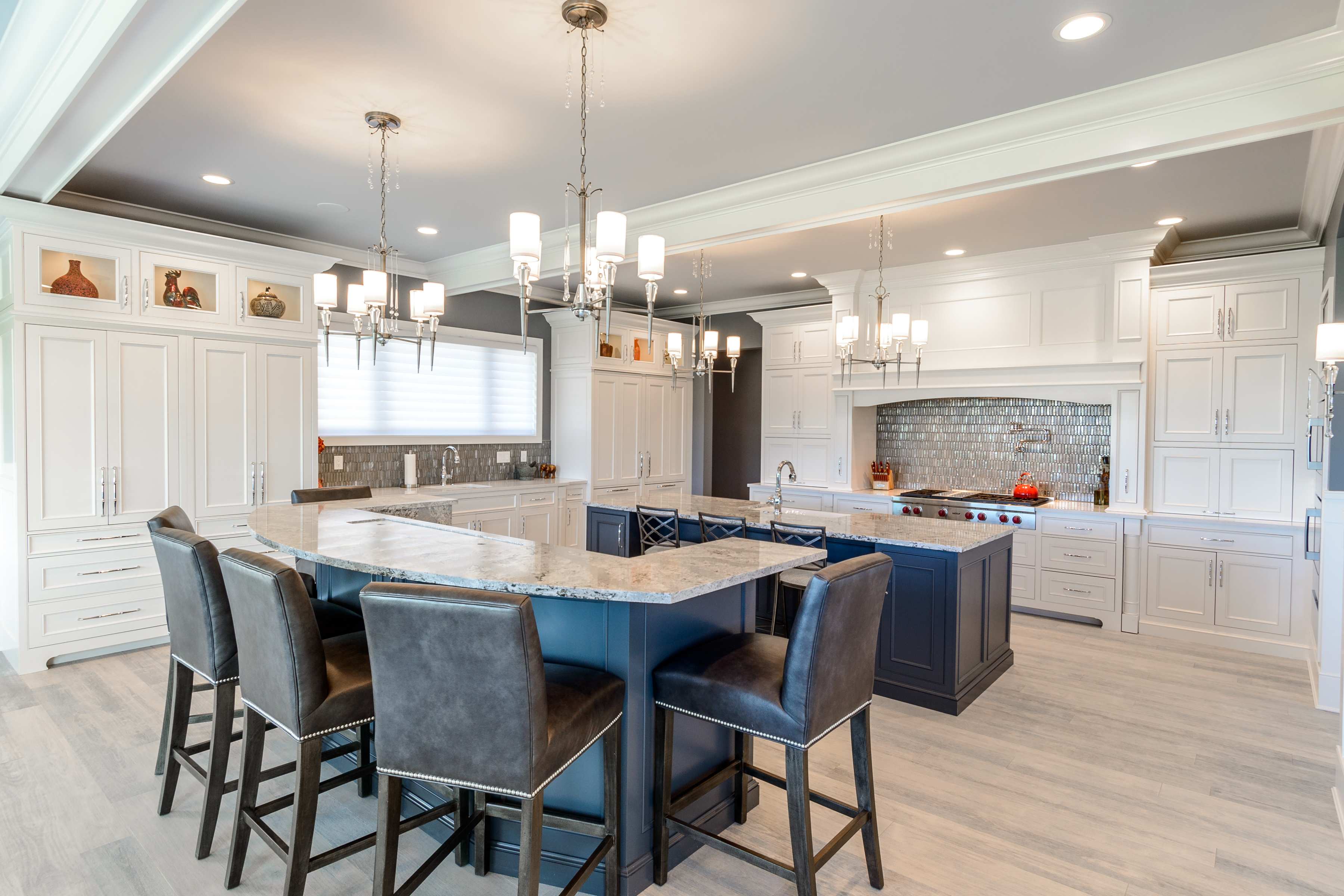 Riverside Elegance Kitchen
Located on the Spanish Bay Dakota Dunes, this kitchen is a timeless mix of Nordic White perimeter cabinets paired, with not just one but two, custom maple-colored islands, creating an elegant hosting space. One is designated specifically for sink prep with three chair seating, while the other acts as a beverage center with five additional chair seating spaces for other visiting guests. Perfect for any occasion, this kitchen brings style to functionality.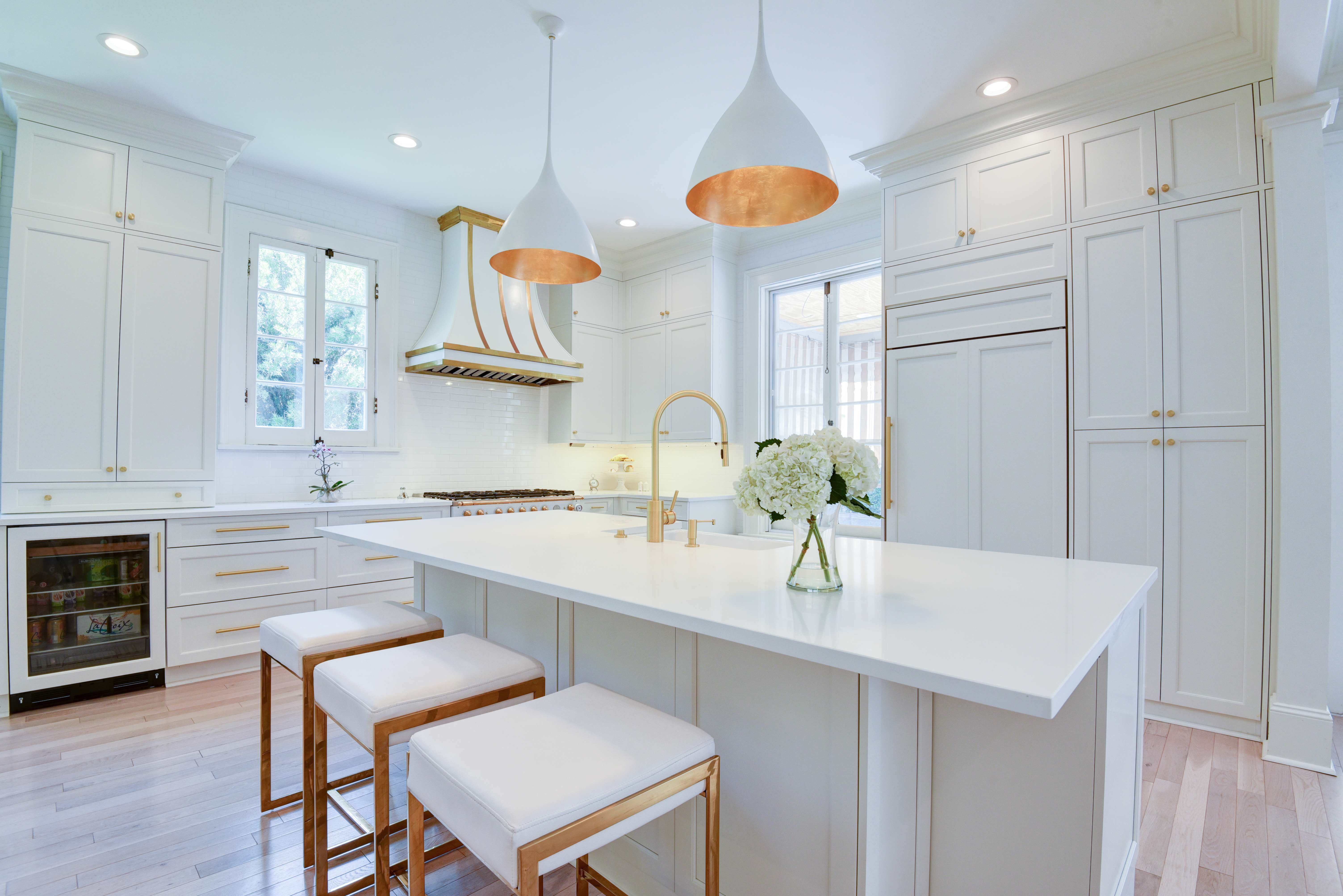 Uptown Sophisticated
This sophisticated space, both understated and beautiful, helps cater to a large family to satisfy all their daily needs. With its open and sleek design, you wouldn't notice stacked upper cabinets and storage hidden behind its island seating. Subtle details such as a built-in wine cooler and gold accents uniquely accentuate this space.
Haute by Hale Kitchen
Understated elegance and feminine detail touches make this kitchen elaborate and inviting at the same time. Unlike other classic black and white kitchens, the complements of mixed metals and the stainless steel statement hood make it exceptionally charming. With dual island spaces and integrated appliances, the space becomes impeccable for hosting and socializing.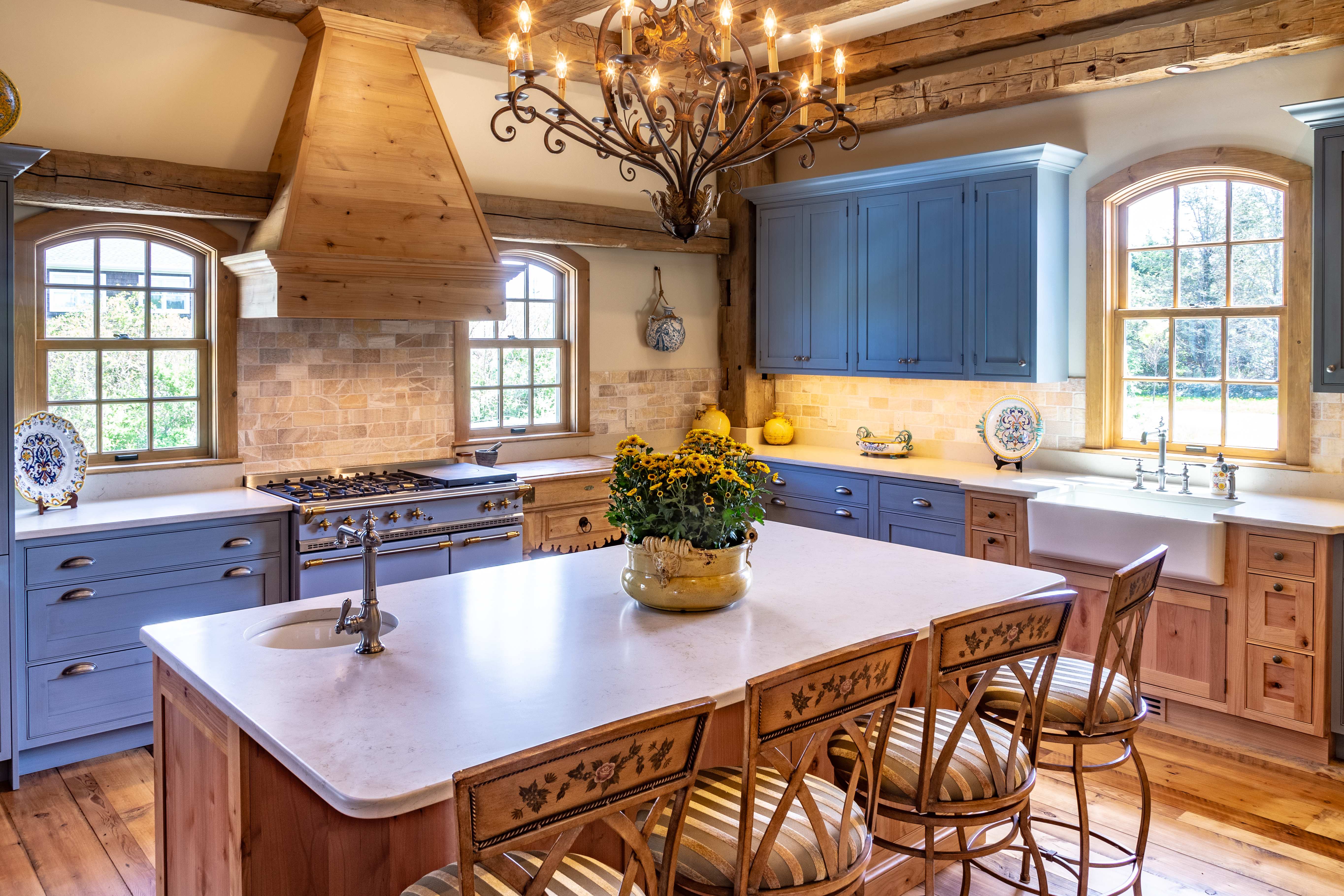 200 Year Old Barn
When a 200 year old barn was taken apart and reassembled in a coastal Rhode Island home, this design by Apex Kitchens & Baths seamlessly blended elements of old and new. Brookhaven's Kingston recessed inset doors in vintage deep sky and an expansive island in matte natural finish on knotty alder set the stage. Exposed wood beams, a LaCanche range and vintage accessories completed the look of rustic elegance.
Stunning Transitional Kitchen
Adding touches of glamour, this stunning transitional kitchen elevates the classic nordic white and walnut finishes to another level with its crystal backsplash and custom hammered stainless hardware. Incorporating the elaborate mullion glass cabinetry and radiant custom hood adds to the room's refined design. With hidden storage spaces and custom refrigerator panels, it is both practical and timeless.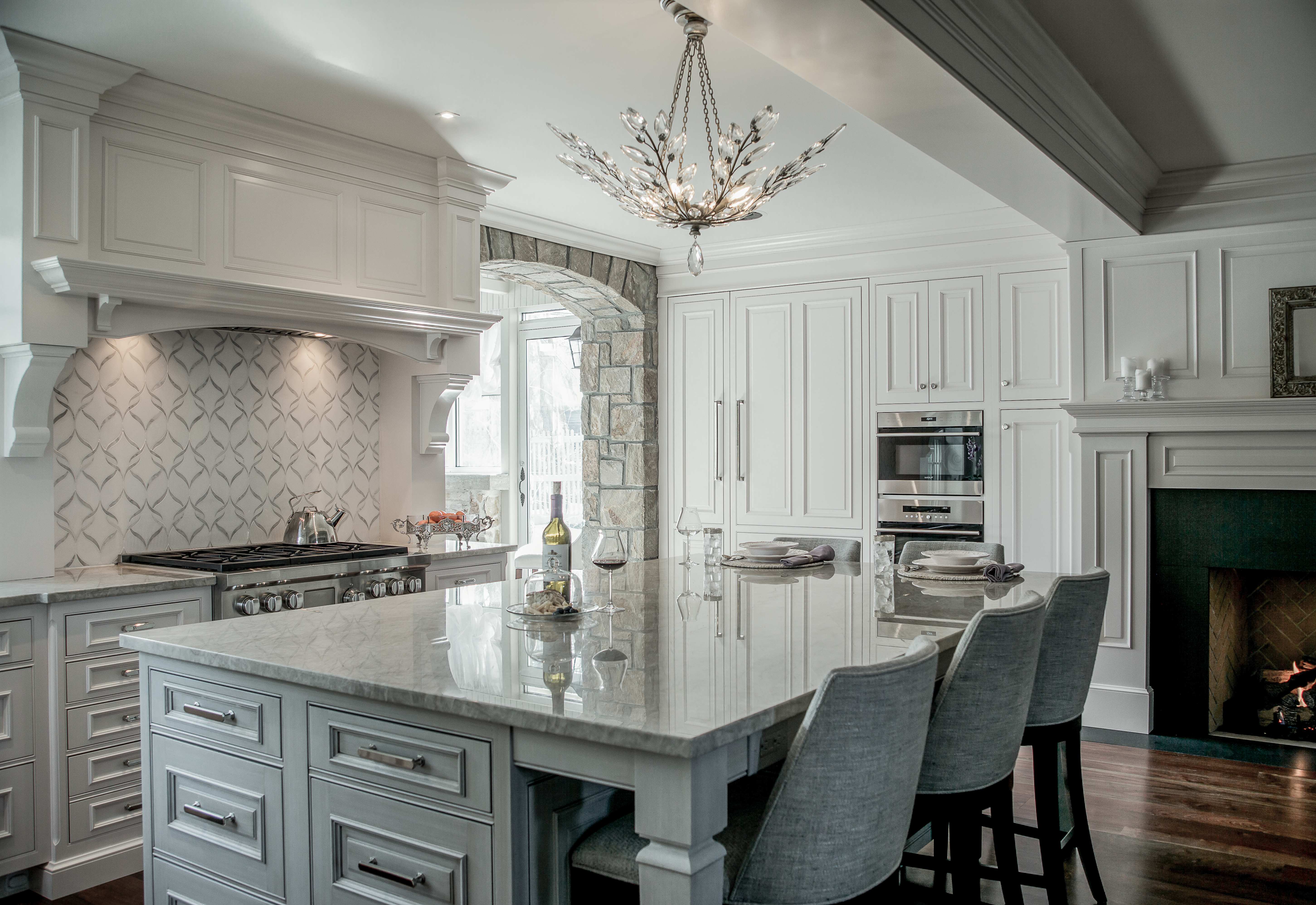 Malvern Residence
Settle in by the custom built-in fireplace in this classic space. The coffered ceiling ties together the gorgeous kitchen and living spaces featuring Lace and Vintage Silver Mist finishes. Integrated appliances and cleverly designed storage offer every bell and whistle while maintaining a timeless appearance.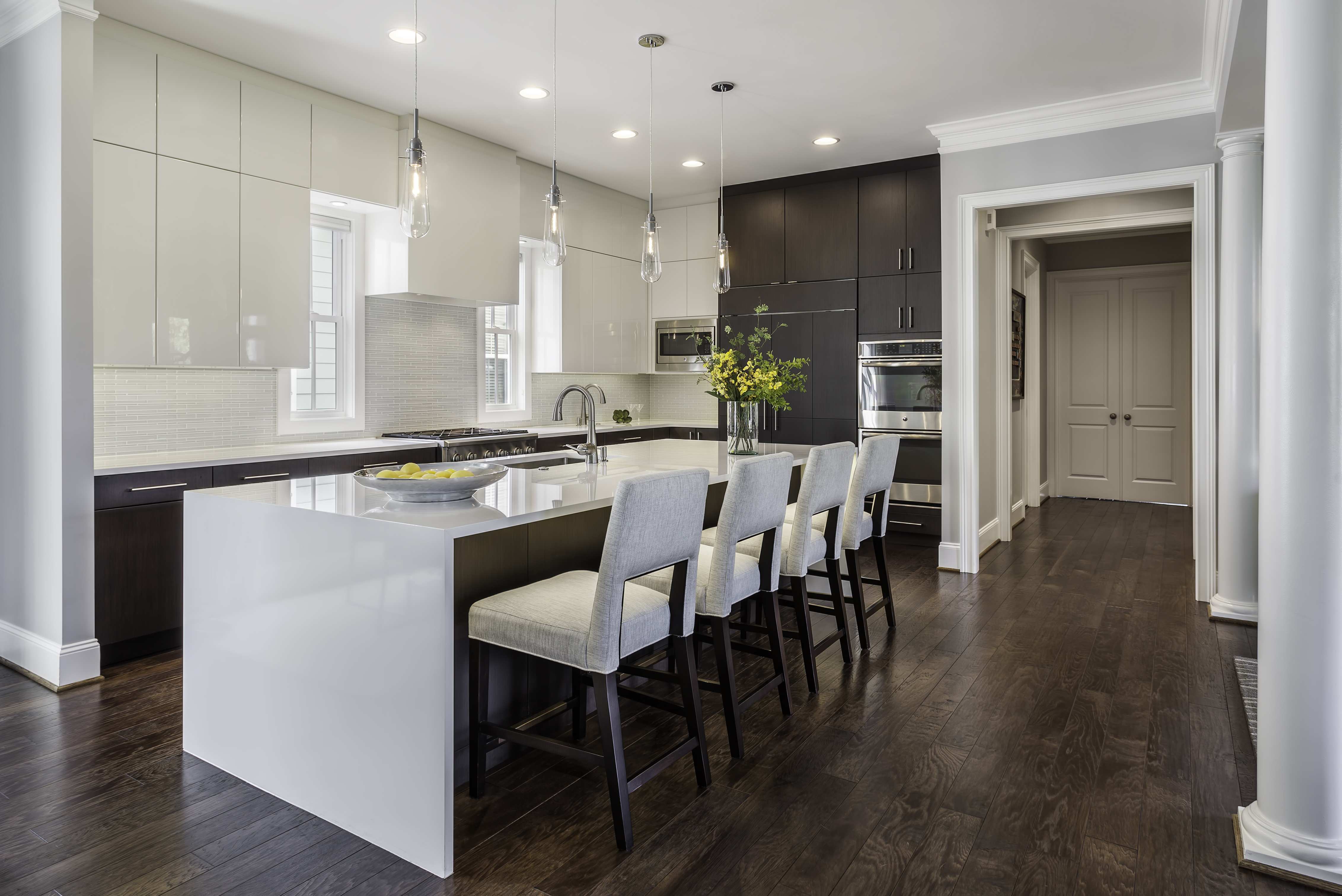 Contemporary Sunshine Kitchen
What started as a traditional kitchen project, turned into a space much more contemporary. By including the stark contrast of the high gloss Nordic White cabinets against the Matte Java Rift Cut Vertical drastically adds texture and dimension. Adding in custom fridge appliance panels and stunning under-island integrated lighting drastically transforms this kitchen to deliver sunshine for every meal.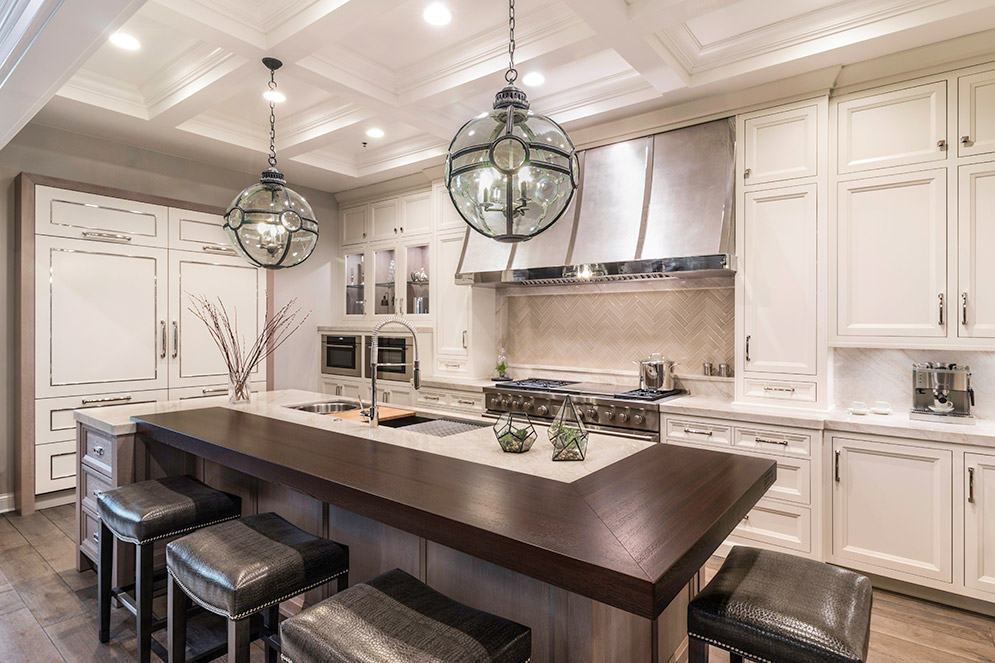 Tiffany Working Kitchen
Minimalism at its finest, this working kitchen embodies the essentials in a very wide and shallow space...also known as a showroom! Moving away from the traditional "white kitchen" to a softer cream-colored palette proved to be a crowd-pleaser. Envision cooking in this space that Includes custom refrigerator panels, built-in appliances, and a custom galley sink.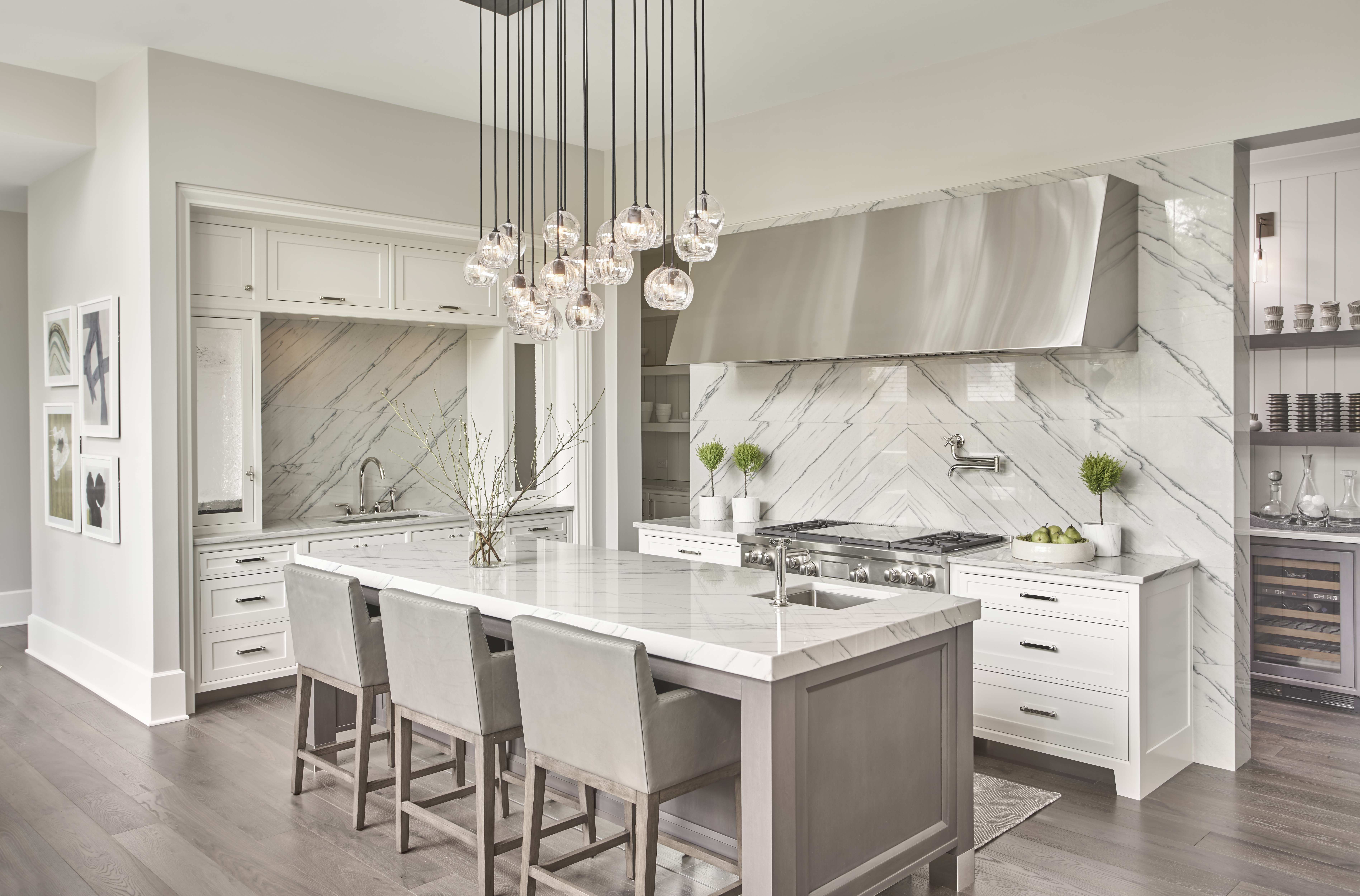 White Clean-Lined Kitchen
This clean-lined combination of white and grey cabinetry creates an elegant masterpiece. To ensure the room's small-footprint not be overtaken by wall cabinetry, there is a balance of additional pantry and butler storage. The polished hood textured mirrored inserts, and refrigerator panels classically transform the space into a streamlined kitchen.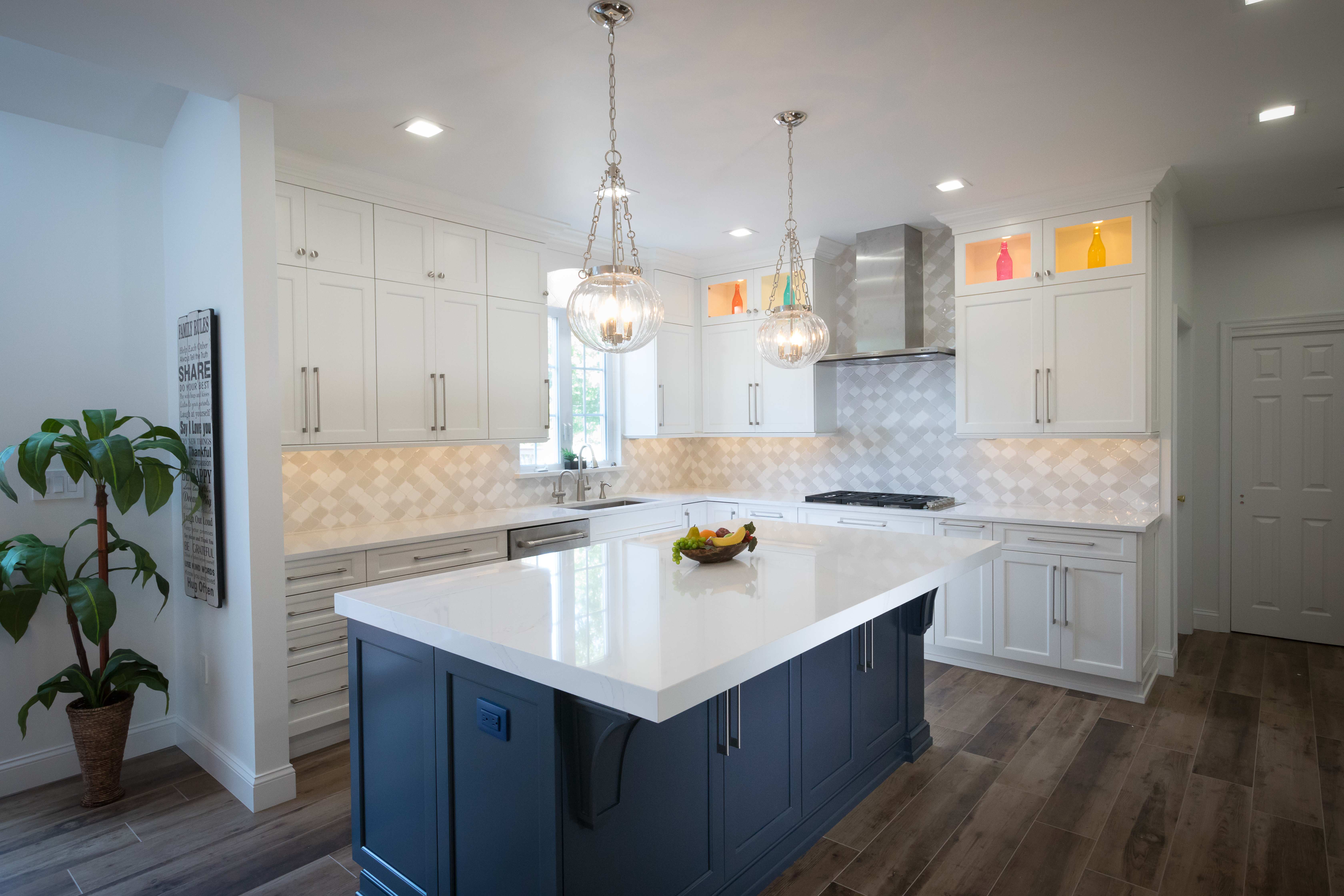 Navy Island
The perfect combination of classic and contemporary, this kitchen features everything needed to host family and friends. Glass door cabinetry allows for subtle pops of color against the classic colors of Navy and Nordic White. The brushed Stainless steel touches tie the space together while subtle details like the substantial island counter top space and mullion doors add extra elegance to the already inviting space.
Mansion in May Kitchen
Inspired by America's gilded age, this kitchen embodies both old and new designs to deliver timeless elegance by fusing multiple finishes, colors, and cabinetry details. With limited wall cabinetry space, two center islands in the middle walkway provide both under cabinet storage as well as a plethora of seating and counter space. While the metal hood is the focal point of the kitchen, beautiful mullion cabinet glass doors complement adding beauty to the room's original architectural details.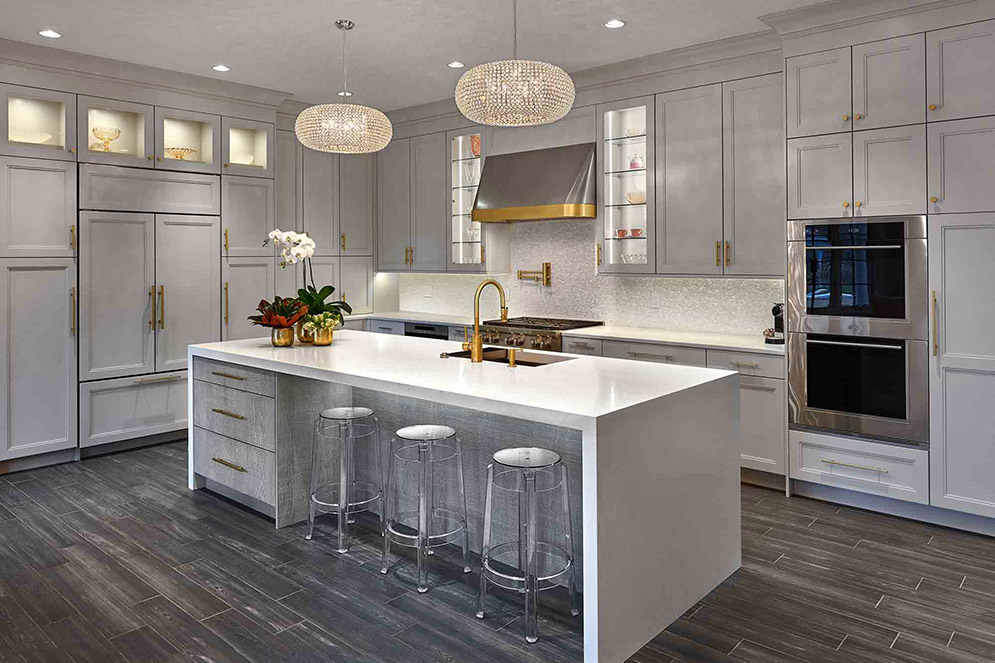 Redding Residence Kitchen
Featuring warm greys, oak veneers, and crisp white quartz counters transforms this once dark French-style kitchen, into a bright and sleek modern one. Custom European oak shaker style cabinetry adds to its neutral color palette, beautifully offsetting the stand-out crystal globe lighting and brass fixtures. Designed for an abundance of storage and counter space, this is a functional and classic showpiece.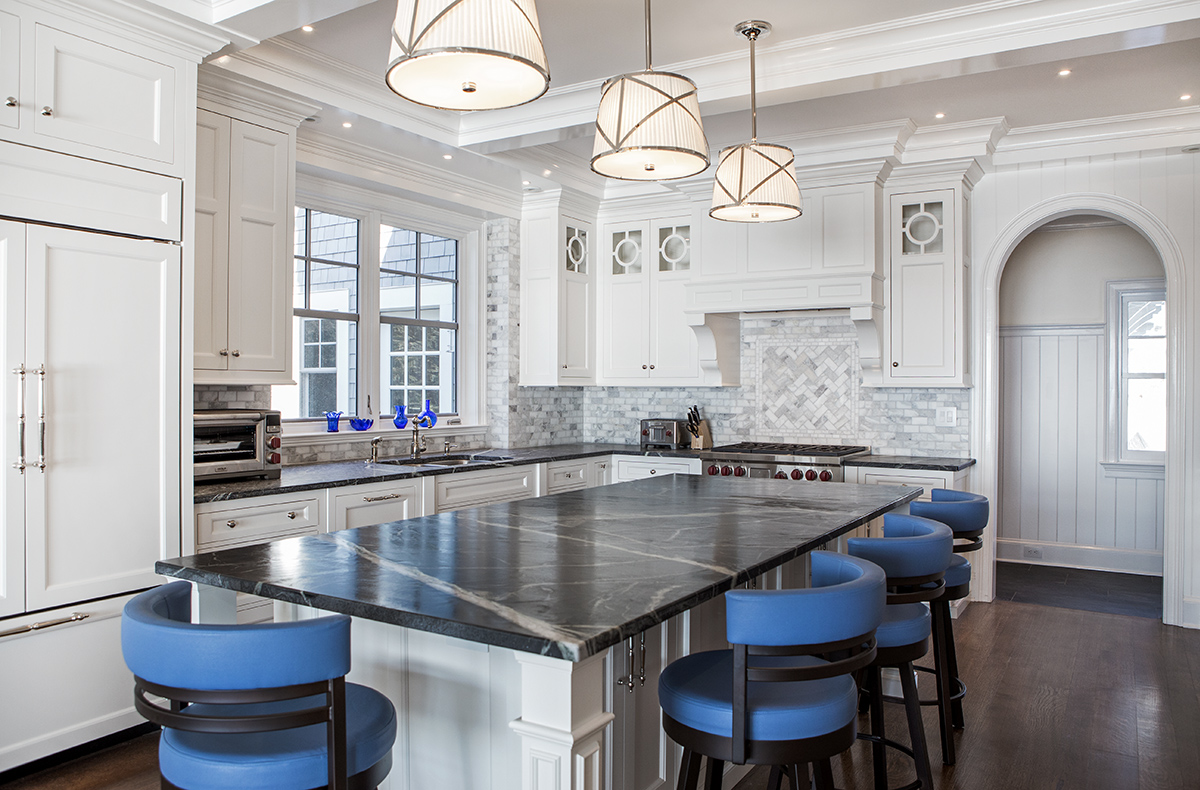 Nautical Lake House Kitchen
With New England and Cape Cod-style influences, the blue accents and port-like windows were sea-loving touches. Classic and comfortable, the Nordic White finish on Maple MDF cabinetry gives the kitchen a bright touch, against the rich Ribbon Mahogany beverage bar. This is truly a lake house, ideal for hosting right on the water.
Lake Drive Elegance Kitchen
Within a home built in 1928, this transformed kitchen is unique in utilizing Vintage Bright White and Matte Eclipse finishes, to gracefully compliment the marble countertops and stainless steel hardware. To accommodate everyday living and entertaining, additional storage of tall pull-out pantries and the stunning wet bar were crucial additions. Prominently featuring true wine storage, beverage drawers, and an ice maker, the wet bar is the perfect place to host and mix drinks on the spot.
Ebony and Ivory Kitchen
Crisp lines and a mix of materials make this bold black and white space one of a kind. The captivating marble surfaces and walls, custom cabinetry pieces, and linear and stainless steel inserts are all eye-catching yet sophisticated. With easy flow from room to room, guests go from admiring the dish and wine wall display to grabbing a drink and a snack from the neighboring wet bar.
Historic Captain's House Kitchen
Located on the harbor, this kitchen maintains a "ship captain's" design style, creating colonial-worthy cabinetry details. Integrating modern touches to this dated space was such as toe kick lighting and built-in appliances. Merging different door styles, inserts and finishes were essential to define each space and create balance throughout the home.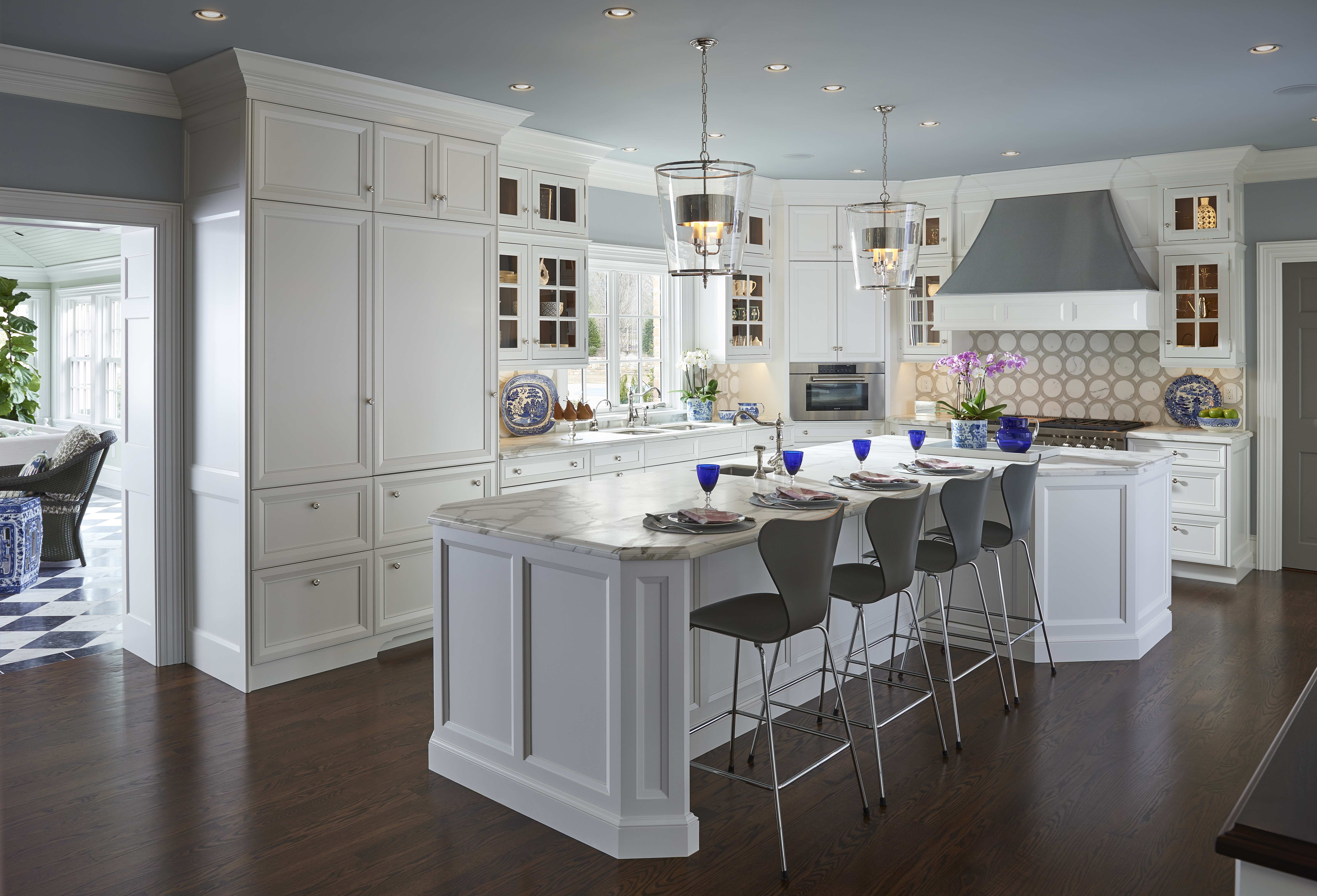 White Toulon Kitchen
A classic with a twist, this beautiful shade of white conveys a crisp and timeless space with Mediterranean and French influences. With modern pops of color and contrasting dark floors, this kitchen is simply warm and welcoming. Utilizing ceiling and under-counter lighting, the room gains dramatic depth and dimension.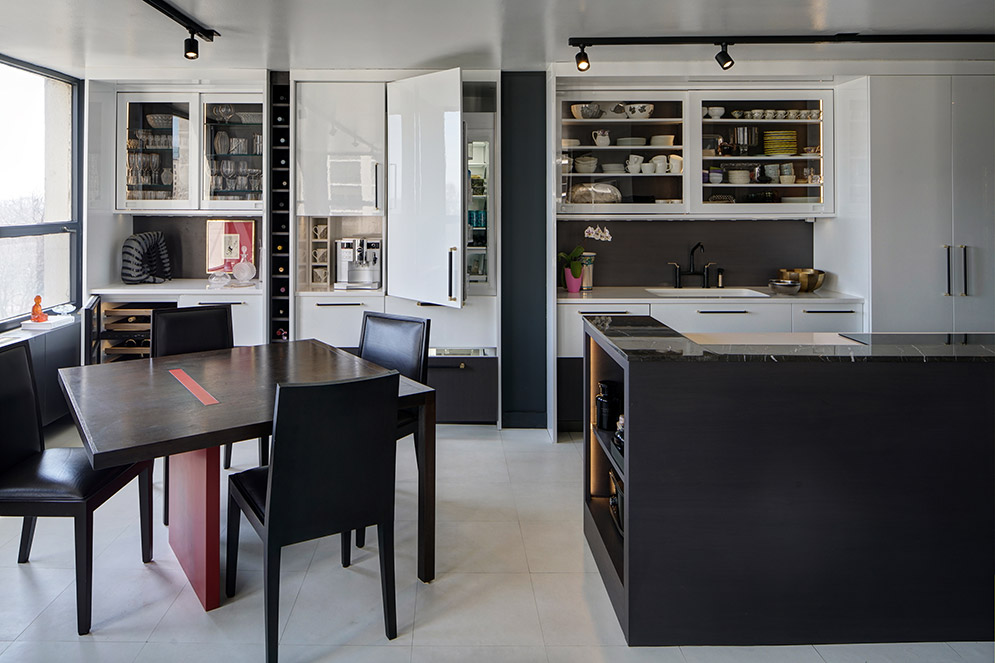 Lakeview Condo Kitchen
Living in an apartment can be challenging, with only 140 sq. feet of kitchen space, this owner wanted to take advantage of every inch without compromising its ultramodern design. Utilizing custom cabinetry, both aesthetics and functionality were incorporated to deliver a soulful and nourishing atmosphere. High gloss white opaque paired with unique walnut detail and Matte Twilight finishes complement one another beautifully in this modern space.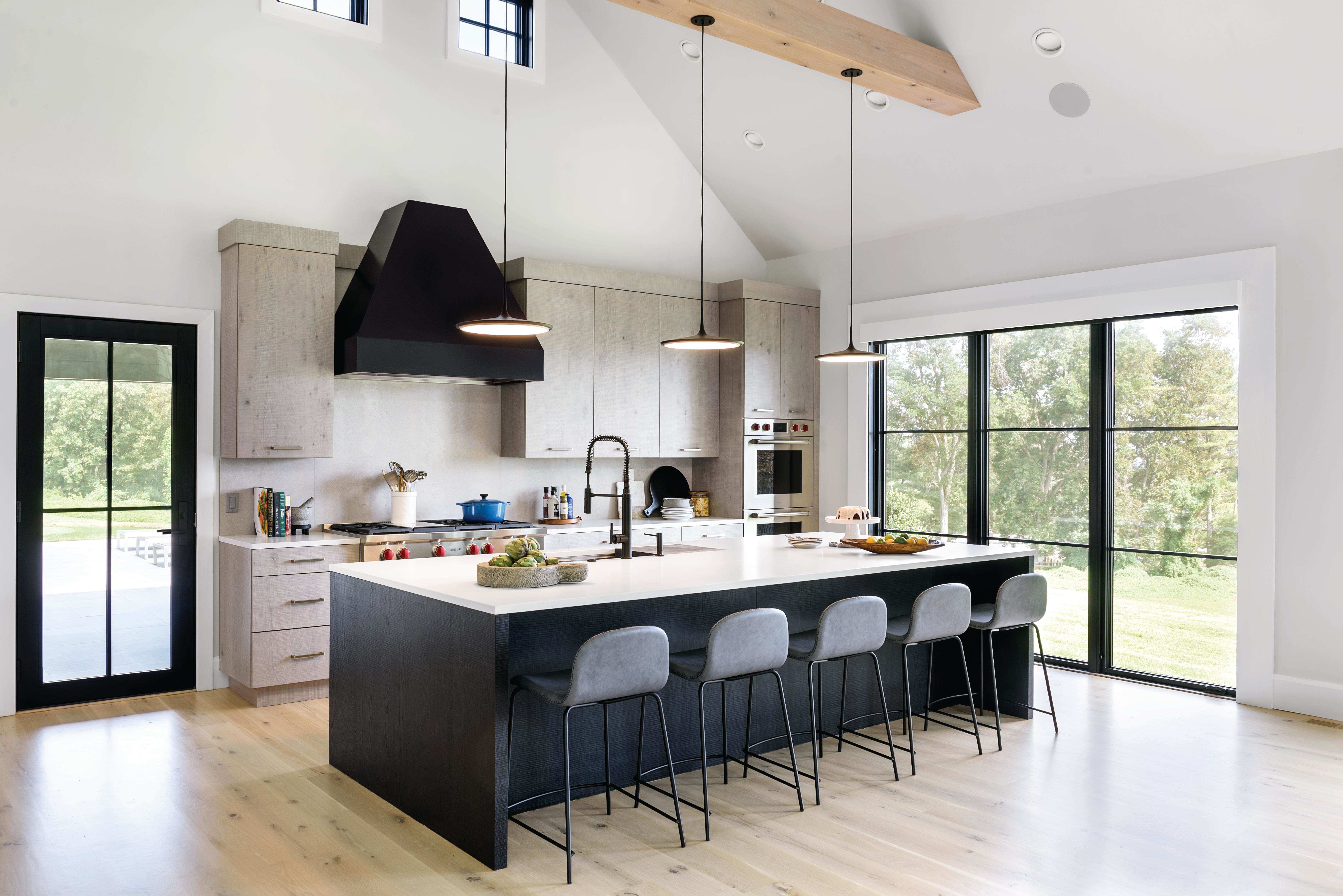 Fairfield Farmhouse Kitchen
Beautifully detailed craftsmanship and abundant storage unite in this traditional space. Soft gray cabinets provide a warm alternative to white and a contrasting center island accommodates multi-person food prep.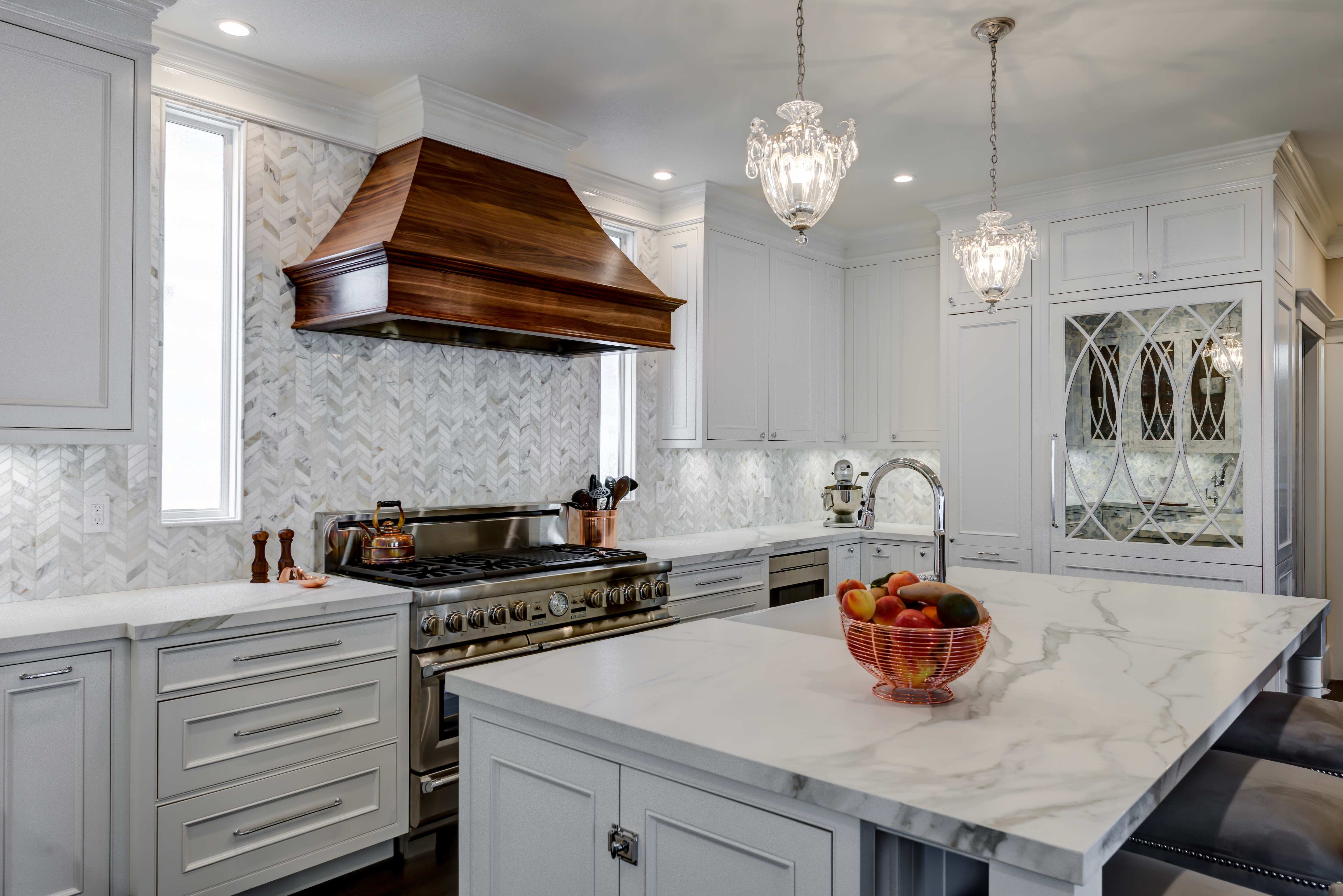 Traditional Elegance Kitchen
A traditional and smart custom kitchen located in the heart of San Francisco brings functionality to this active family lifestyle. With an affinity for rich exotic wood, the custom walnut hood helps to offset the all Nordic White kitchen. To add simple accent detail, glass doors, antique mirrors, and a rubbed worn finish on the drawer panels were added to give the space extra class and dimension.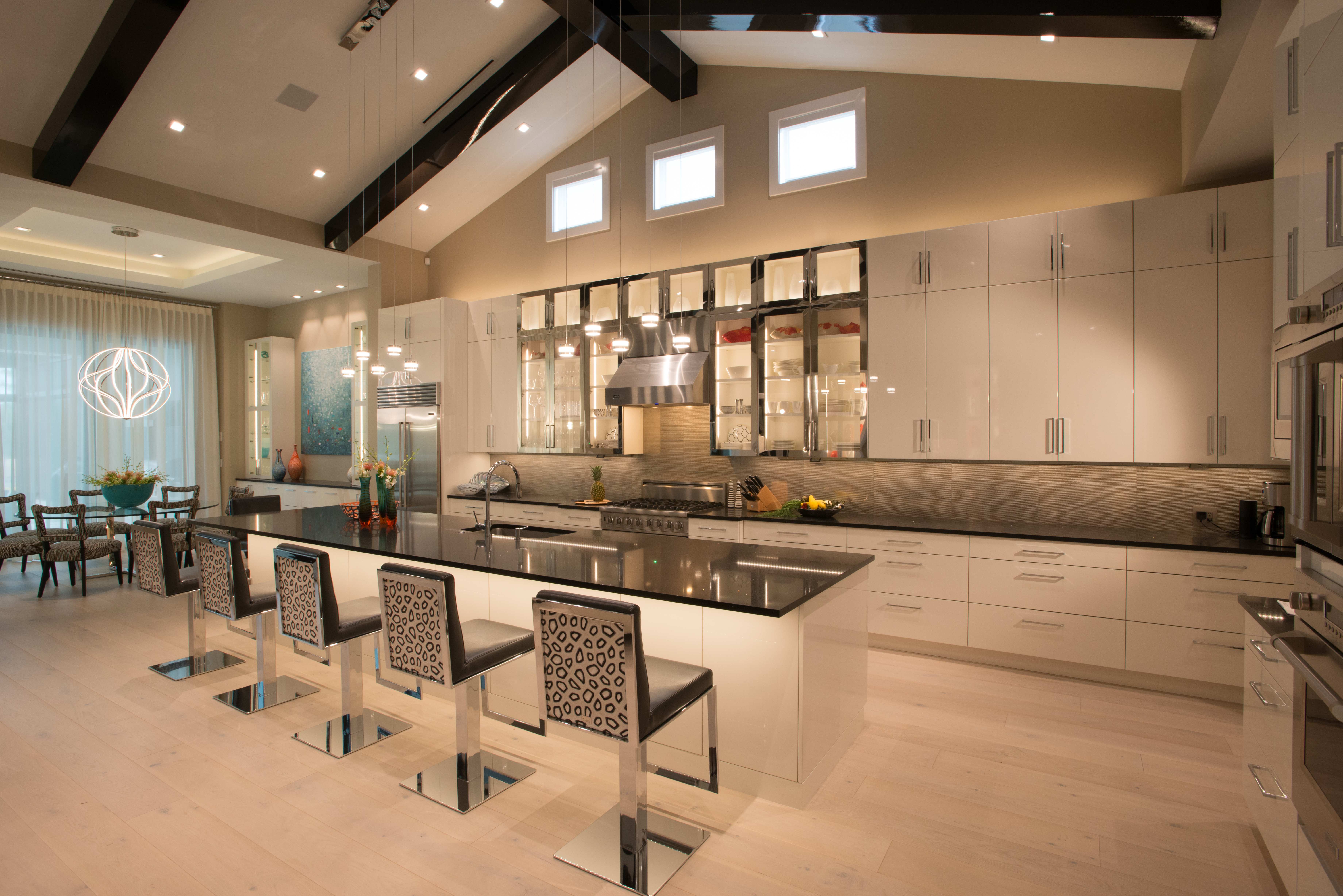 Brilliant Vista Kitchen
The brilliant contrast of white high-gloss cabinets and black countertops punctuate this contemporary escape, creating a sparkling space visiting guests will never want to leave. Featuring an abundance of kitchen storage, the placement of shining glass stainless steel cabinets with accent lighting highlights this stunning kitchen detail statement.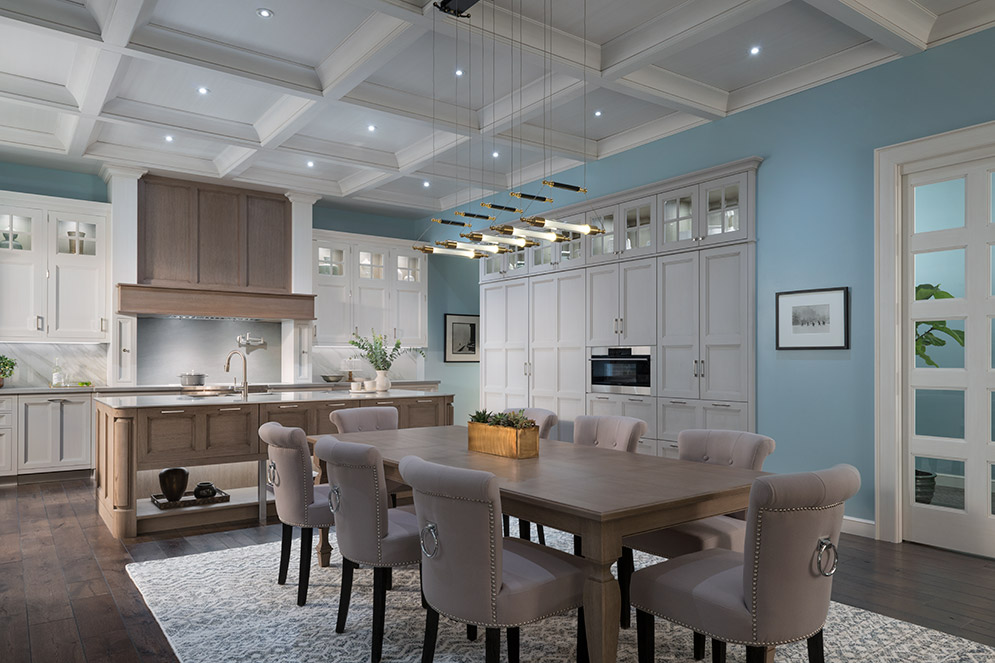 Edison Heights Kitchen
Traditionally-inspired urban architecture and modern amenities blend in transitional elegance. Conducive to intimate family meals or elaborate dinner parties, the open floor plan exudes an overt sense of warmth and welcome.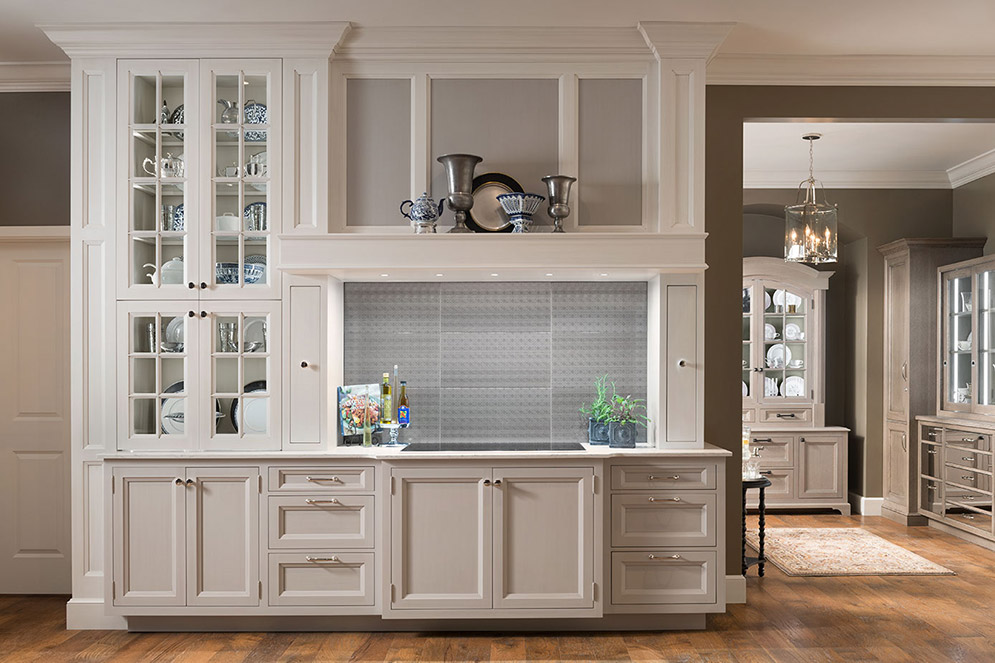 Whitney II & Tiffany Kitchen
Bright White and Silver Mist opaque finishes take on a softer character with the Vintage hand-wiped glaze on MDF. One inch thick doors in both frameless overlay and framed inset application feature a clean, wide bevel around the recessed panels for a sophisticated update to a traditional design.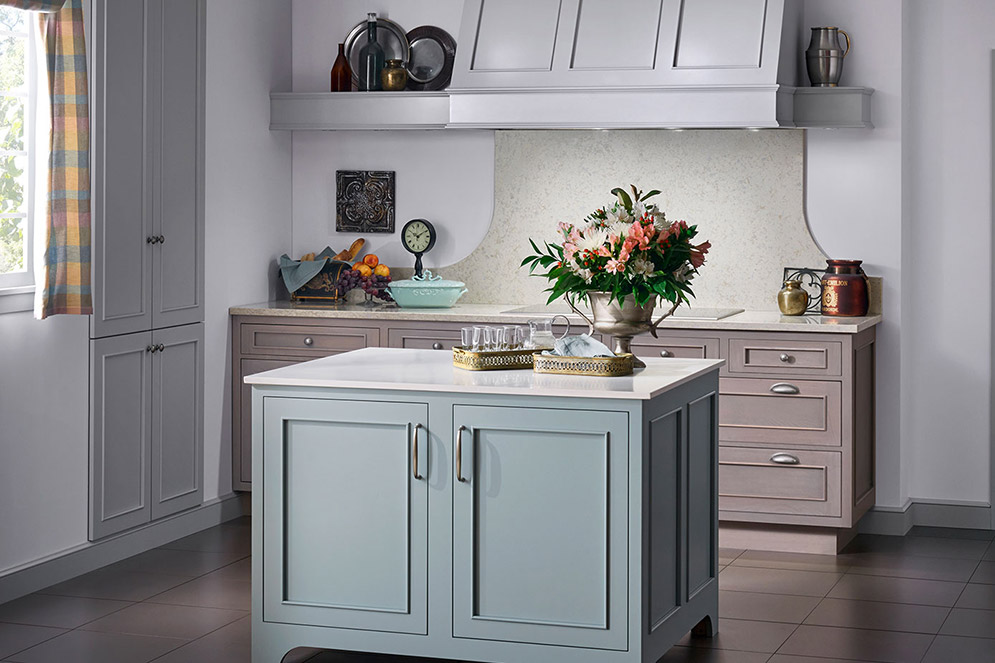 Tribeca & Soho Kitchen
Silver Mist and Agate Designer Opaque finishes on MDF are paired with a new light gray-beige cherry finish known as Shale. This soft trio of finishes gives the Soho and Tribeca door design a romantic feel that evokes a European origin.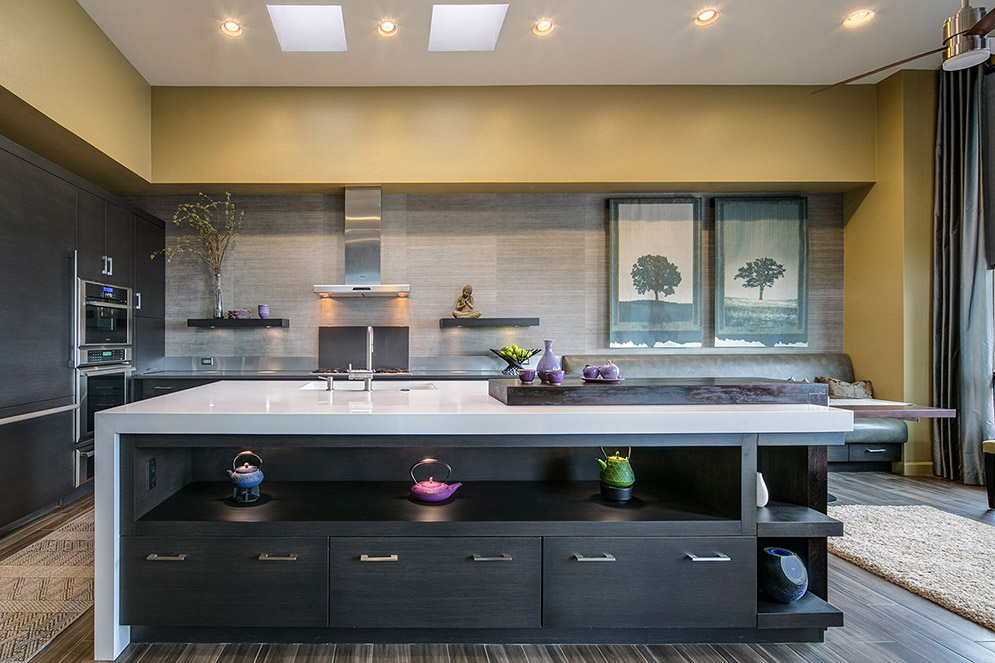 Zen Blend Kitchen
Calming solitude and lively entertaining meet in Zen-like balance.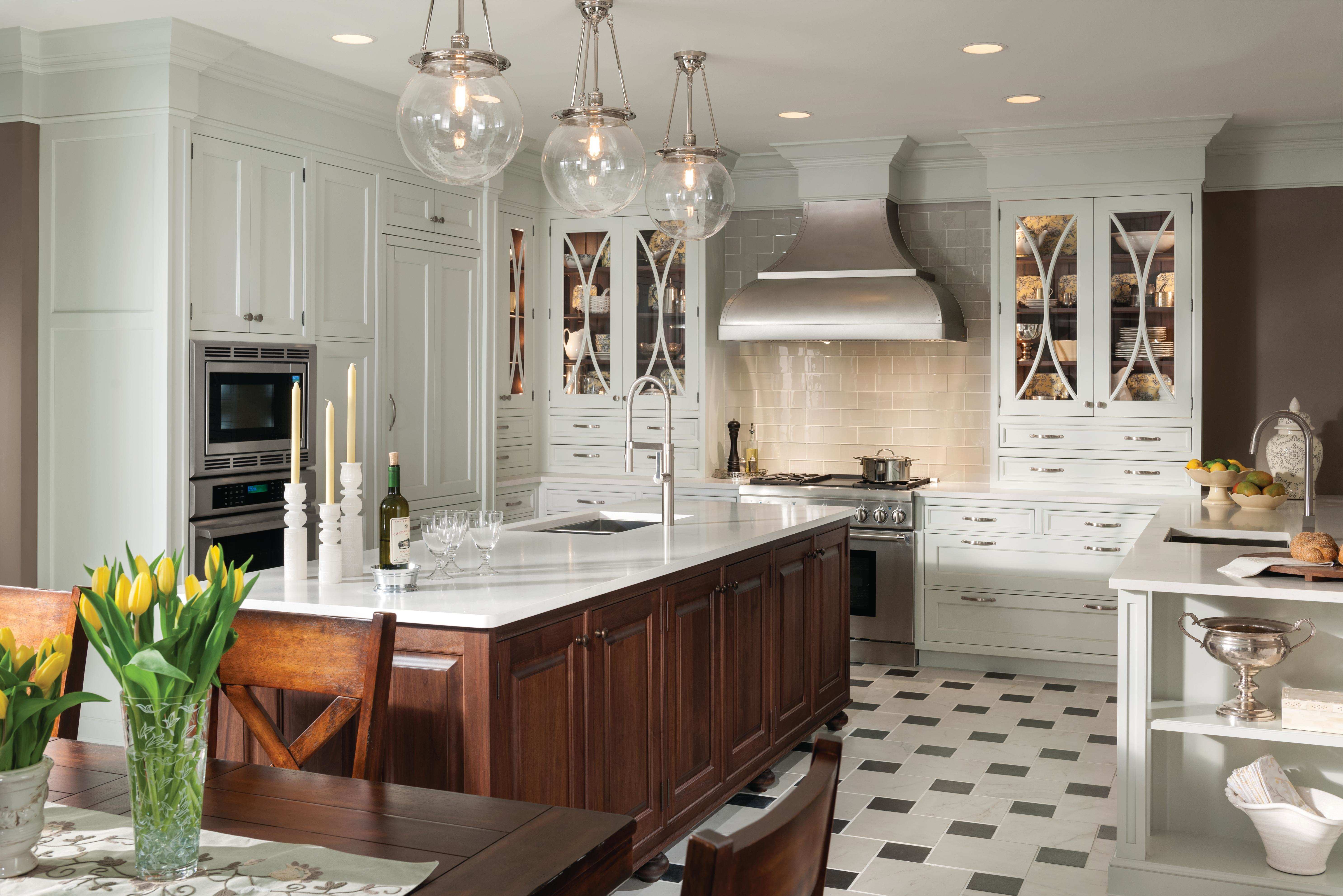 Embassy Row Kitchen
Beautifully detailed craftsmanship and abundant storage unite in this traditional space. Soft gray cabinets provide a warm alternative to white, and a contrasting center island accommodates multi-person food prep.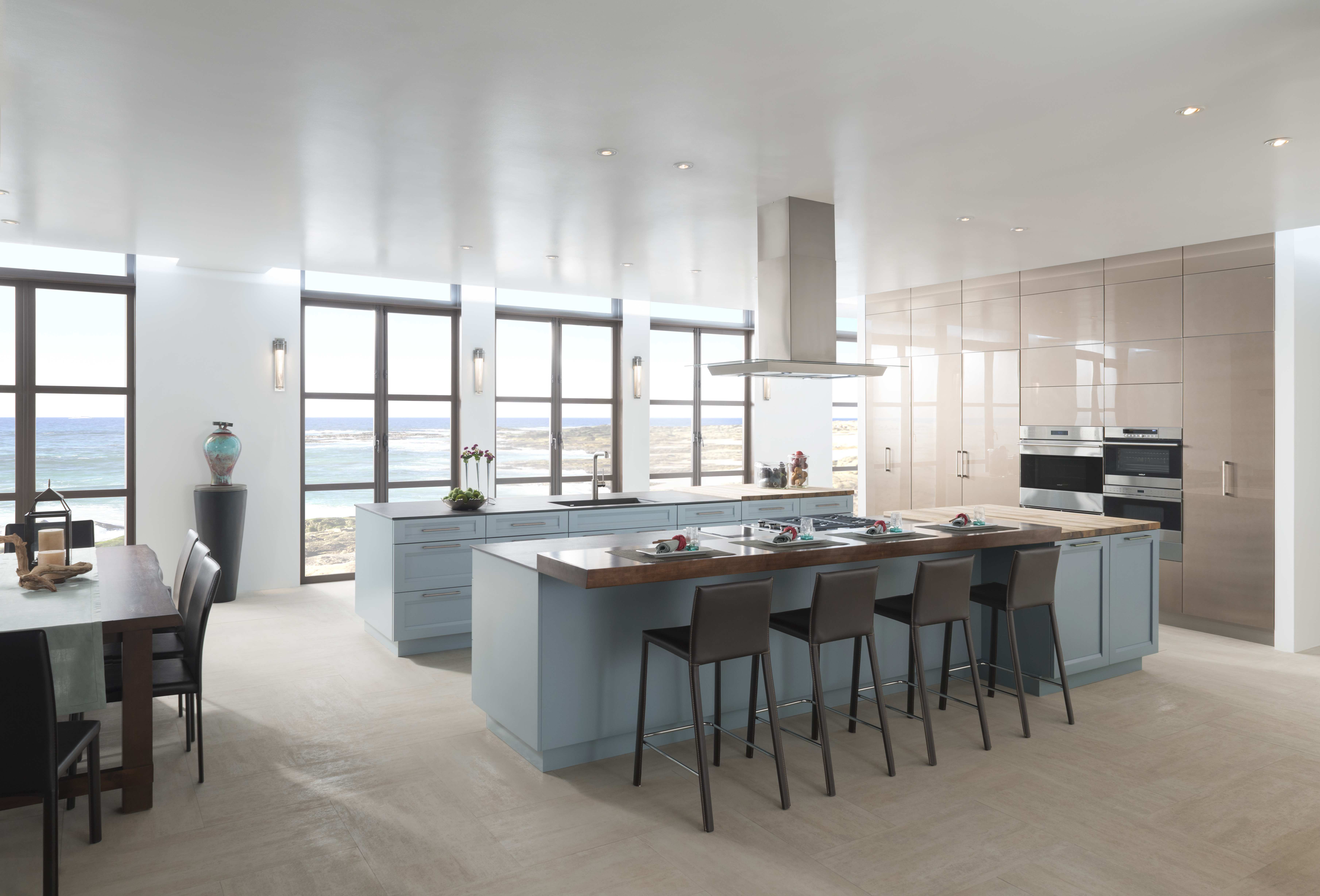 Oceanside Kitchen
Perched along the rocky coast and fused in colors of its natural surroundings, this contemporary space provides a tranquil refuge for a long weekend or gathering with friends.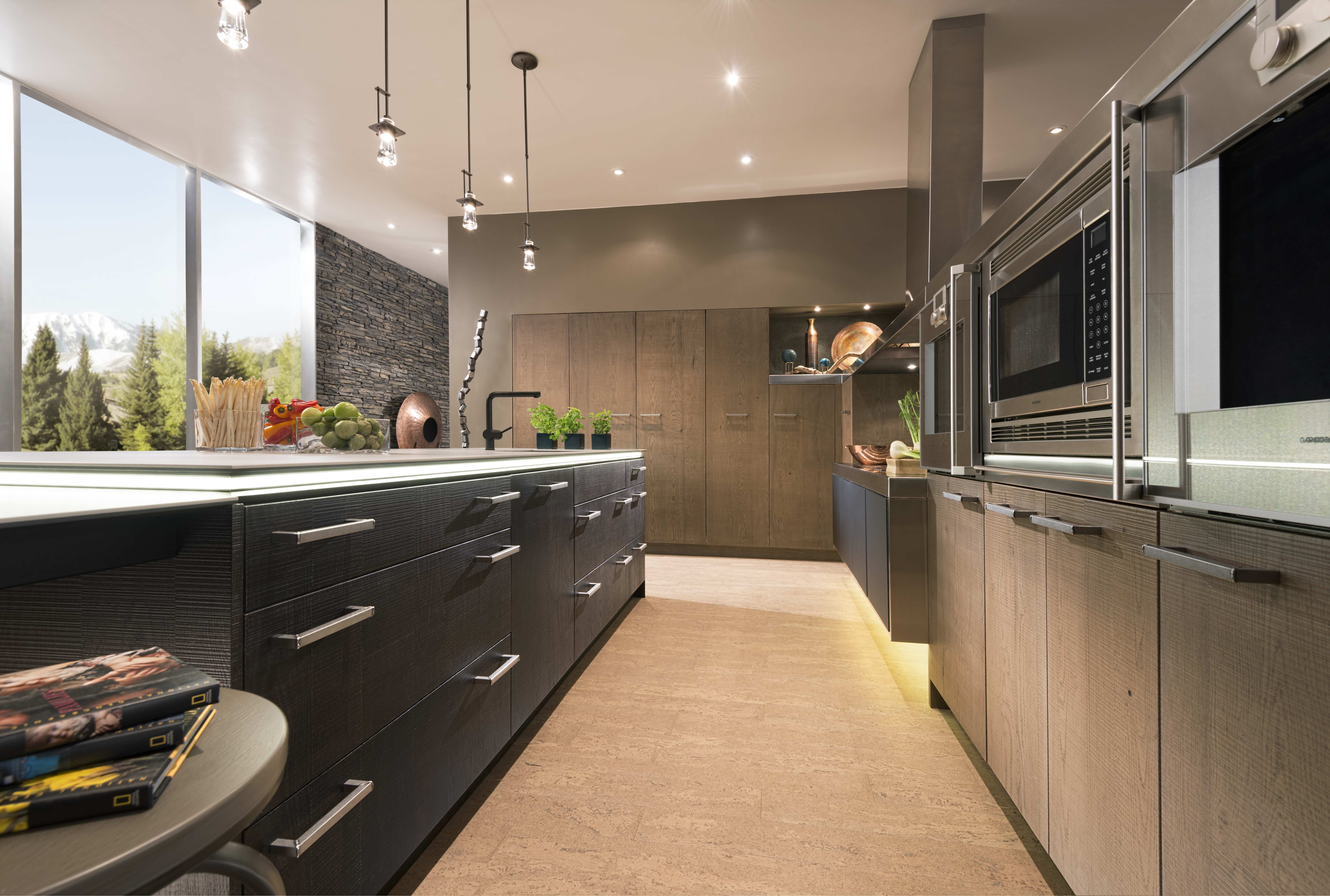 Universal Elements Kitchen
Earth inspired neutral colors expressed in basic materials with contrasting textures reinforce the connection of the natural and built environment. Nestled within the clean lines of the cabinetry lies a host of convenient storage items designed to make this kitchen a great place for cooking and entertaining.
Penthouse View Kitchen
Like the city beyond its windows, this kitchen is sleek and lively. Black gloss cabinets span the room's perimeter while the white island and gray armoire create contrast and warmth.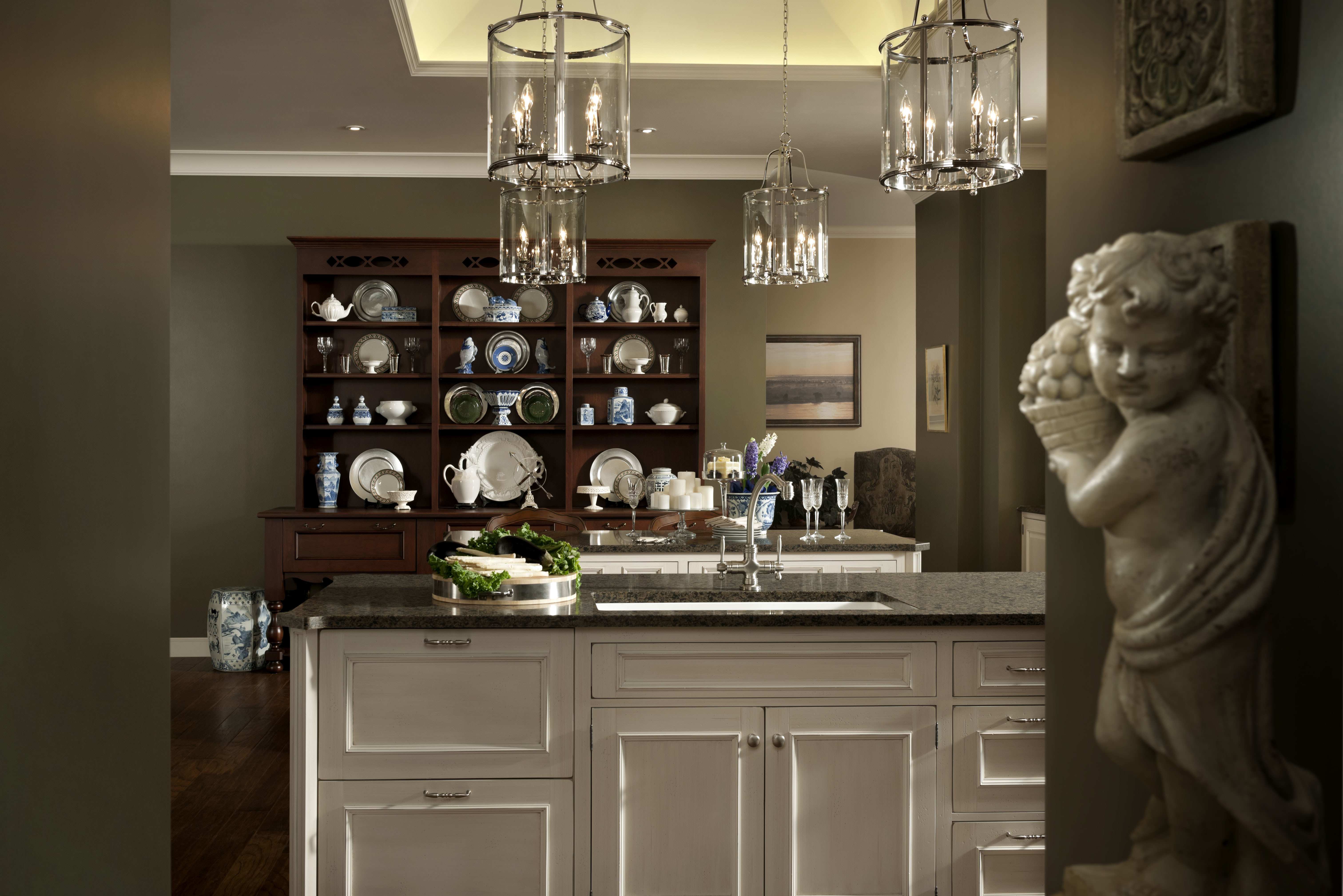 Gramercy Park Kitchen
The name may be American, but the inspiration is Old World townhouse, with a blend of finishes on the cabinets, hutch and furniture-like islands, which provide additional work surfaces.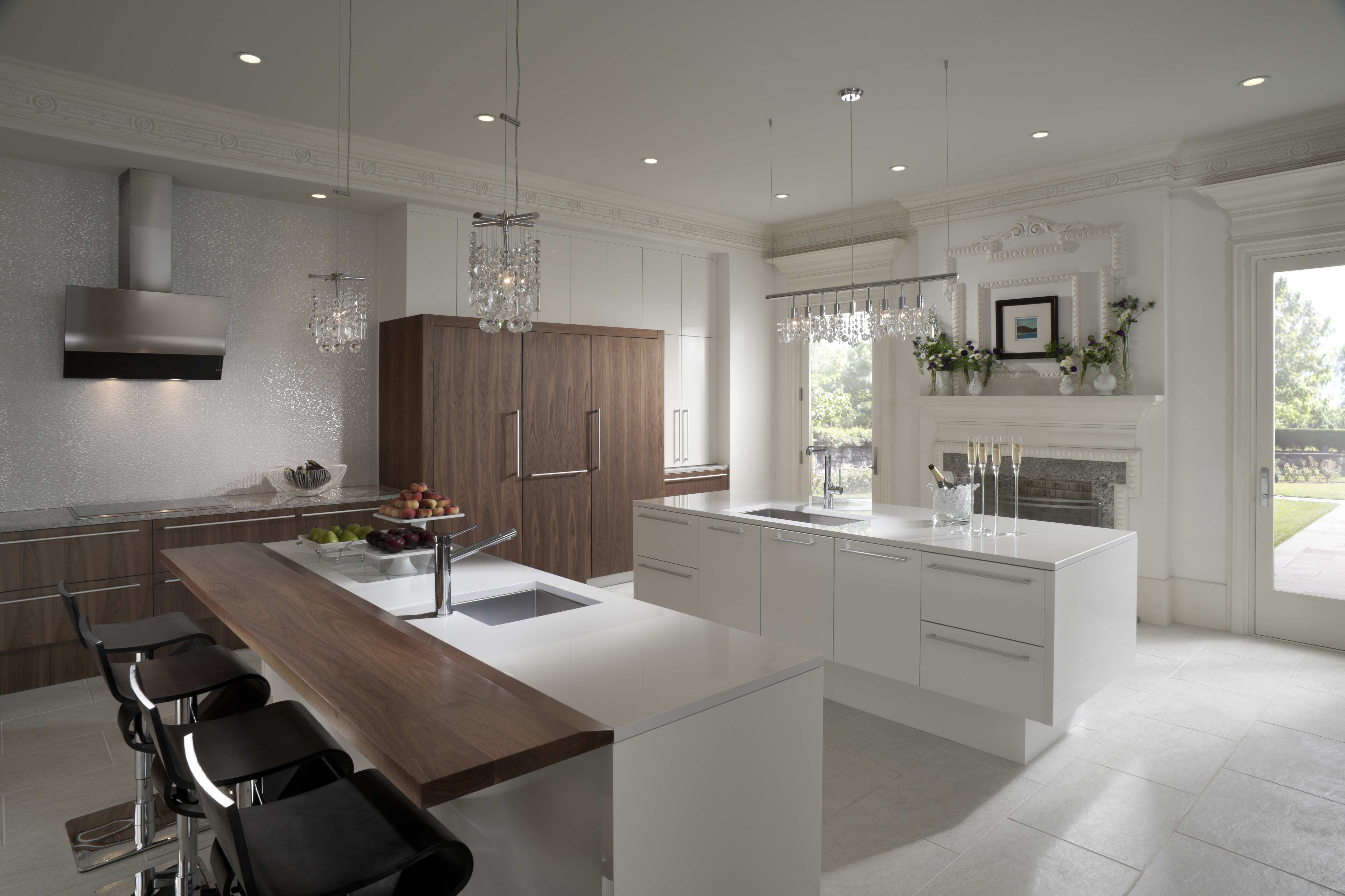 Modern History Kitchen
As its name implies, this kitchen preserves historic architectural elements while incorporating minimally detailed cabinetry, state-of-the-art appliances, and plenty of functional storage and workspace for the avid chef.
Expressions Kitchen
This boldly contemporary space features a stunning mix of materials and graphic details for a vibrant but comfortable environment.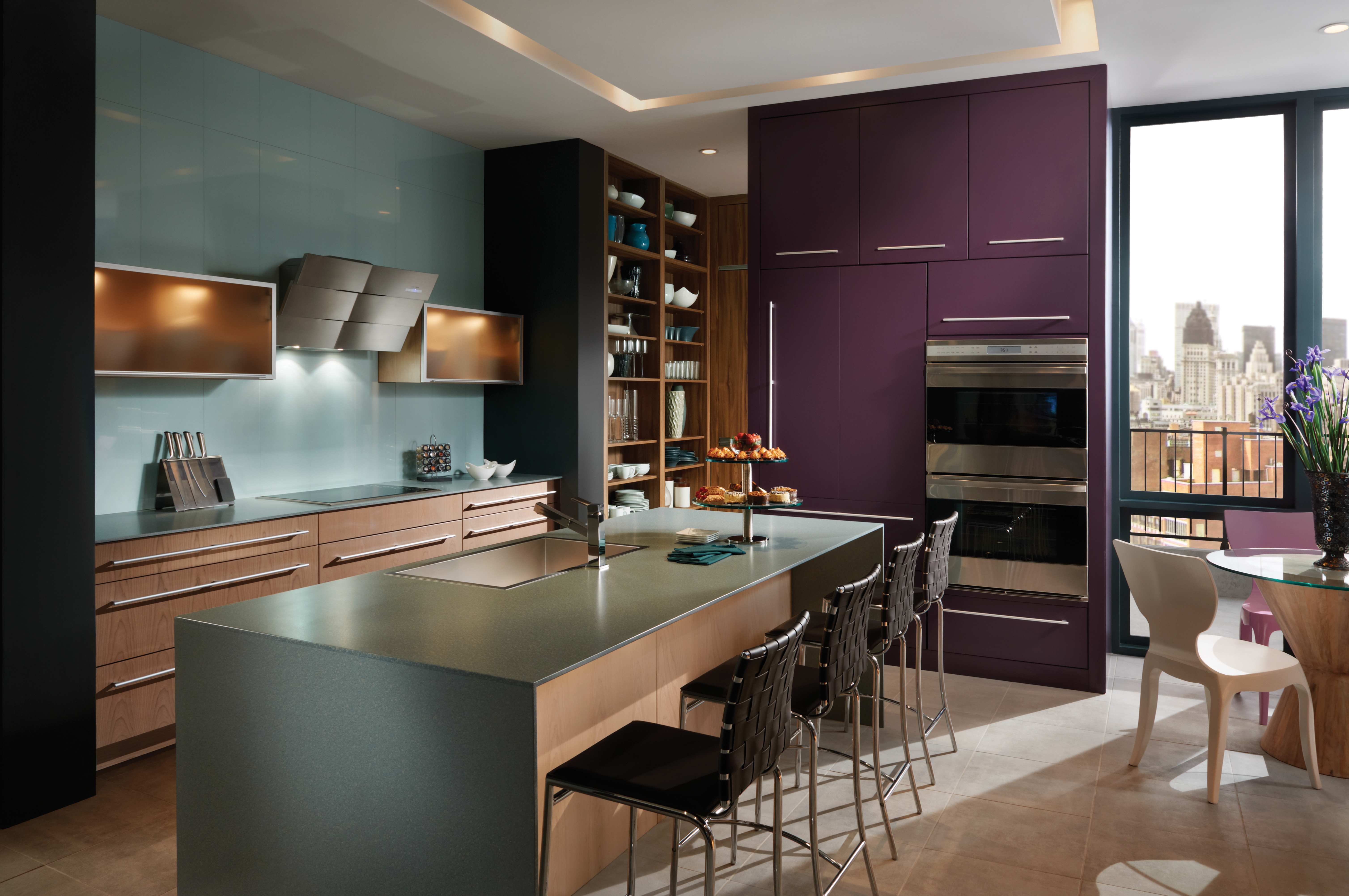 Urban Revival Kitchen
Warm wood meets bold designer color in this vibrant kitchen, providing convenient organized storage for food, cooking equipment, dinnerware and serving pieces.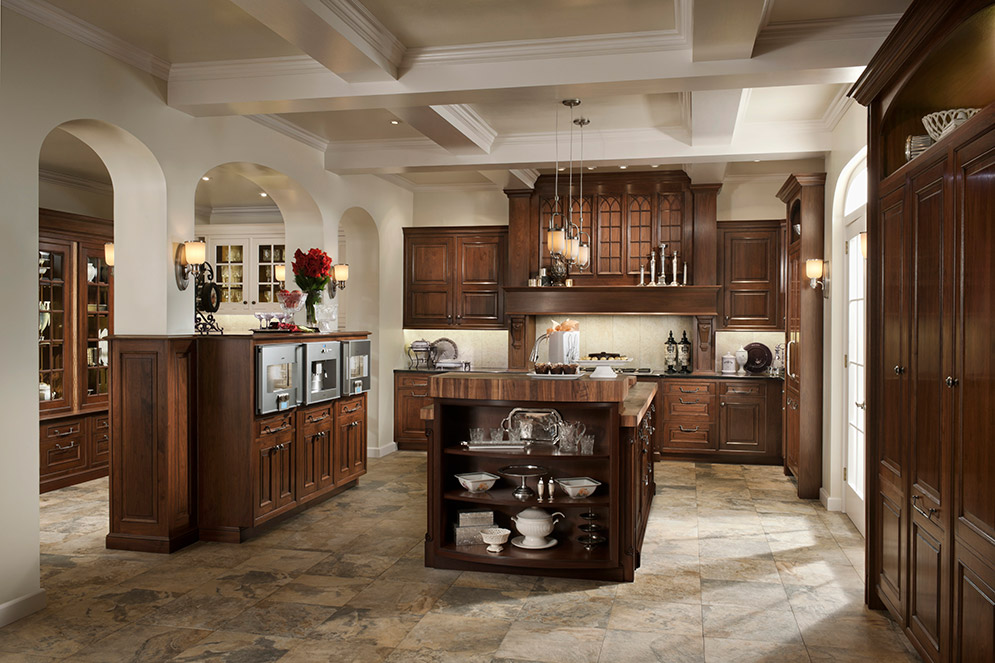 Elegant Traditions Kitchen
Sophistication is defined by the interplay of luxury materials and appliances with the timeless details of this highly functional kitchen, which includes a pantry with open shelving and an extensive china cabinet.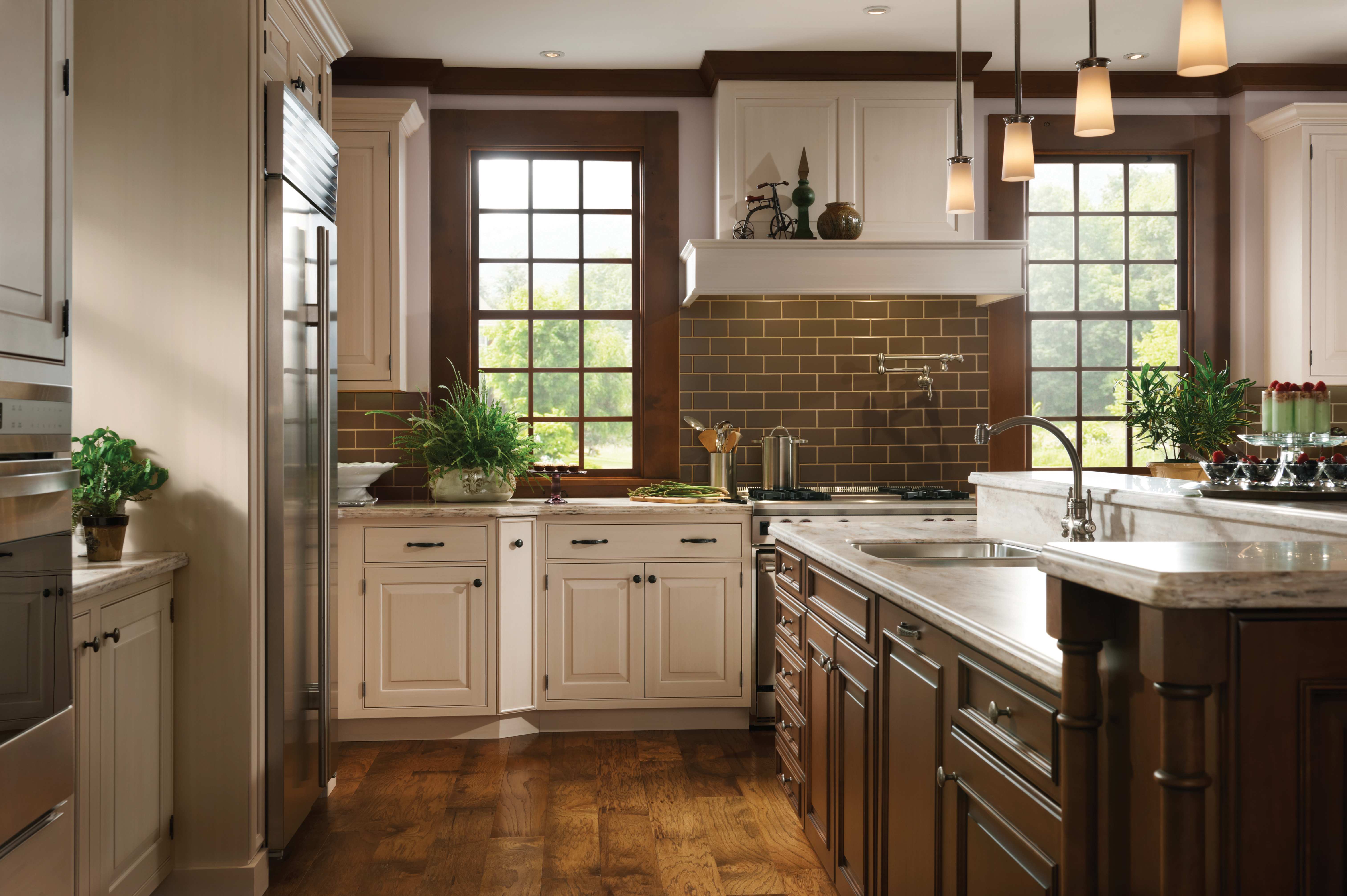 Woodland Meadows Kitchen
Nestled in the heart of America, this traditional open kitchen is designed for families.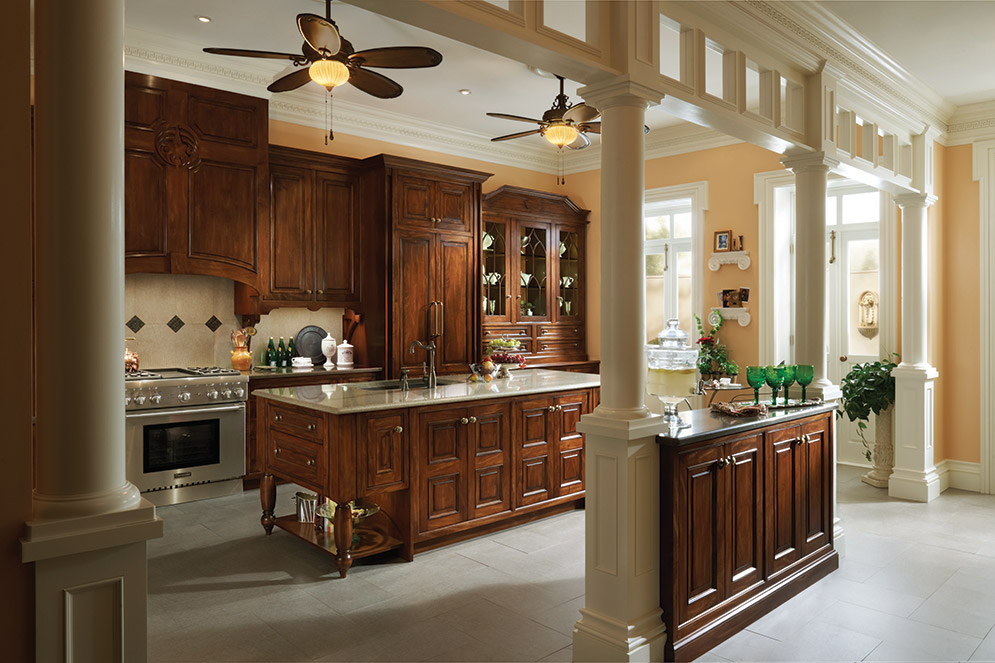 Southern Reserve Kitchen
Southern Reserve evokes the grace of Charleston and New Orleans, blending historic charm with modern convenience, including an elegant place for the wine connoisseur to store and sample their collection.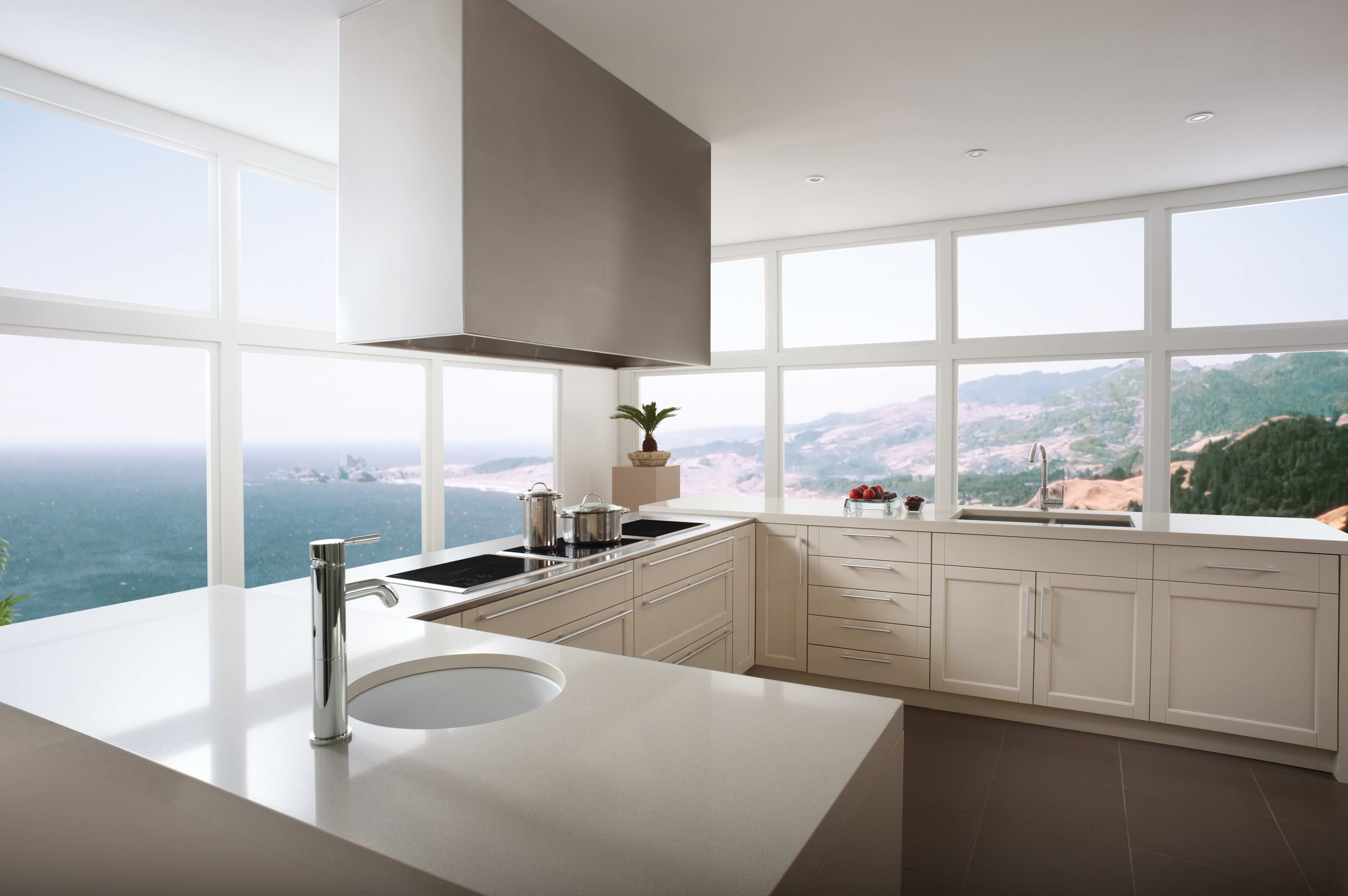 Malibu Kitchen
A monochromatic color scheme softens the geometric shapes of a contemporary kitchen layout to create a transitional feel.
Stonehill Kitchen
Drawing inspiration from a colonial-era farmhouse, beauty and function are achieved with a blend of door styles and finishes on the cabinets, fireplace and armoire.
Hudson Valley Kitchen
Warm and inviting, this traditional country home contrasts a pale island and refrigerator with darker perimeter cabinets and includes a custom breakfast nook.
Oak Park Kitchen
Inspired by the Arts & Crafts era's focus on natural materials and hand craftsmanship, this kitchen features a spacious island, multiple sinks and ample workspace for the avid cook.
Mountain Retreat Kitchen
This cozy weekend getaway or second home is made for rest and relaxation with its stained bar and contrasting deep green cabinets.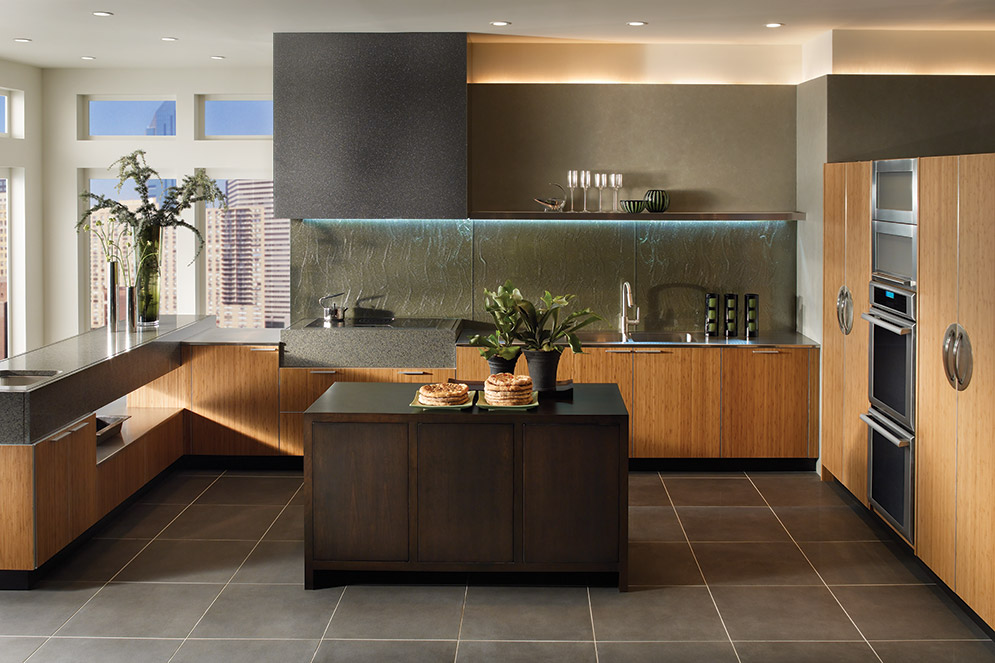 Linear Solutions Kitchen
A unique combination of materials and simple geometric shapes all help define this contemporary European style kitchen as low maintenance yet highly sophisticated.
Horizons Kitchen
Both contemporary and casual, this kitchen uses tall cabinets to incorporate a chef's pantry, refrigerator, and other storage. A floor-to-ceiling light box masks the range hood with soft ambient light.
European Country Kitchen
The eclectic blend of contrasting finishes in this inviting country kitchen create the relaxed feel of a home full of treasured family heirlooms collected over time.
Southampton Kitchen
Inspired by classic Georgian architecture, elegant white cabinetry contrasts with the dark floors and hood. Dual islands and a wall of tall pantry and china storage provide functional efficiency.
Cape Cod Kitchen
Whether a summer cottage or year-round dwelling, the soft earth tones, open floor plan, and simple accessories of this Cape Cod kitchen create a space that is warm, welcoming, and unpretentious.
Metropolitan Kitchen
Playing to the concept of clean, contemporary European styling, this kitchen focuses on the overall look of the space and the materials used with an open flow and minimal accessories.
Classic Simplicity Kitchen
This kitchen exudes a combination of sophisticated elegance and understated comfort, using the classic appeal of black and white accented with warm wood and stainless steel.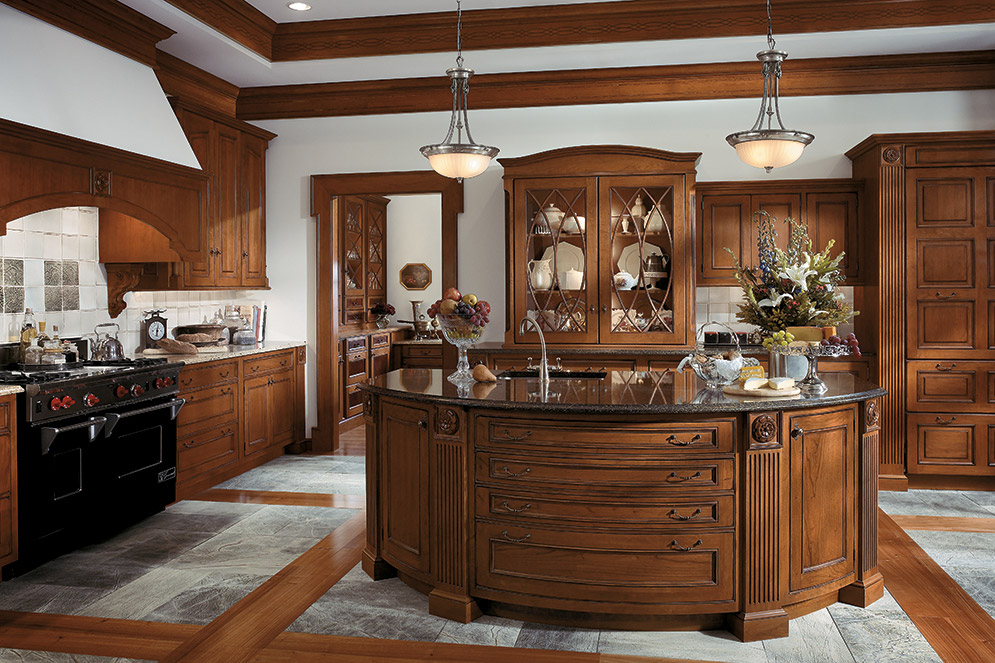 Kensington Court Kitchen
Classic elements including an eyebrow pediment, chamfered and fluted details on the china cabinet, and the box hood configuration above the range enhance the formal English appeal of this kitchen.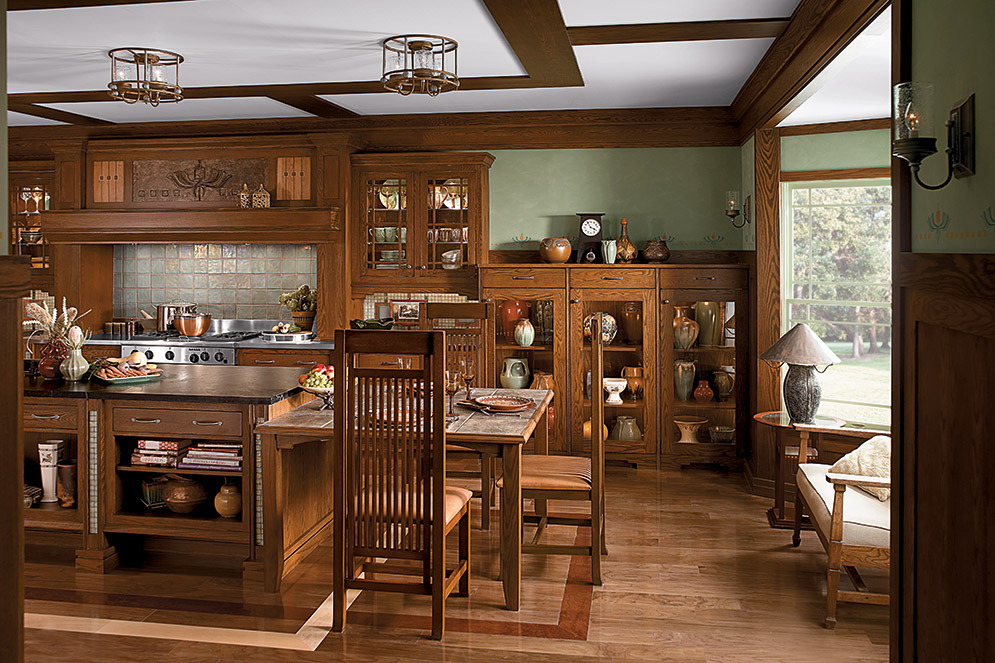 Craftsman Kitchen
Straightforward, unadorned lines and boldly grained oak combine with inlaid parquetry panels, iridescent mosaic tiles, glass doors and other fine detailing to create this warm and functional kitchen.
Lakeshore Drive Kitchen
Contemporary materials give a classic, turn-of-the-century townhouse a fresh, updated look. Split panel doors feature glass in the upper sections to showcase vintage treasures.
Grand Villa Kitchen
This inviting space with an open flow reflects the beauty and gracious living of Tuscany. Unique custom elements like the wine rack and hutch create the impression of antique furniture.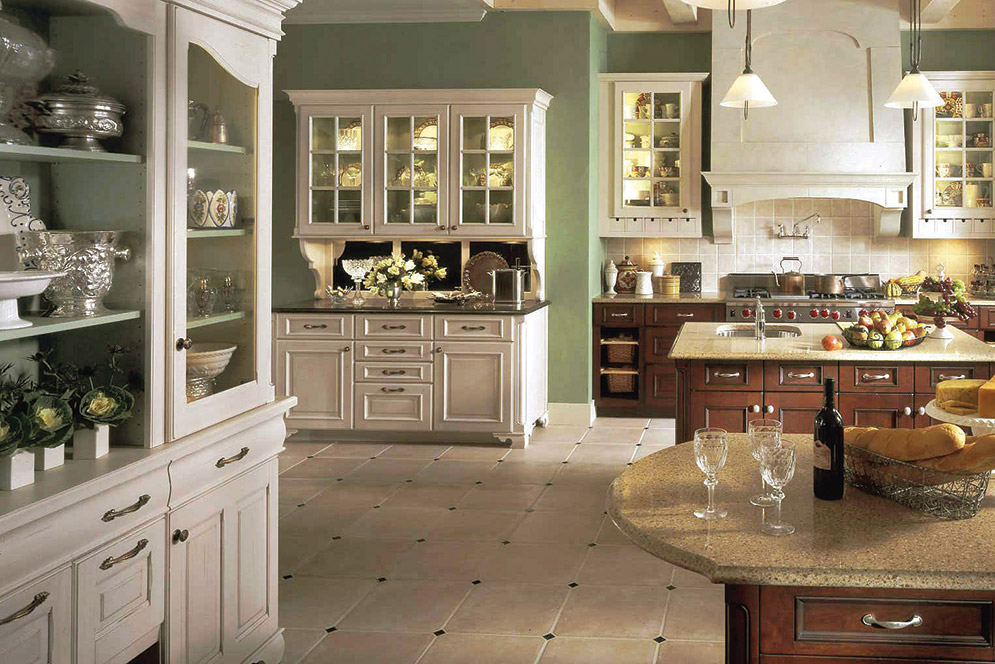 Country Estate Kitchen
Drawing on the gracious architecture of continental country estates a century ago, freestanding islands and contrasting hutches imbue this kitchen with a surprising combination of charm and efficiency.
European Heritage Kitchen
A kitchen fit for a king, complete with handsome carvings and moldings. The European influence is evident in the magnificent island, French sink base, and classic mantle hood.